Supporting local Red Cross and Maintaining a Farm - Two projects in Iceland
Reykjavik November 2011 - Working with the Red Cross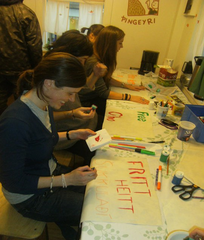 Seeds are the volunteer organisation in Iceland run these projects.
There were 19 volunteers from different countries in Europe and three from South Korea.
Accommodation – in the Seeds hostel consisting of two rooms of bunk beds, a bathroom and a kitchen. It was very clean and had good facilities.
The work consisted of collecting funds for the Red Cross. For the first few days we were taken to a kitchen and made up lots of hot chocolate and waffles which we handed out on the streets of Reykjavik with donation boxes for people to contribute funds.
On the second week we were taken to a big warehouse and assembled large shelves in which to place large boxes of drink, food and toys for the homeless.
Leisure: We attended a Christmas market on day where they were selling decorations and playing music. There was a lake near by which was frozen over and we could walk out onto it!! People are so nice and friendly there and I have stayed in touch with many of them.
Hofn May 2012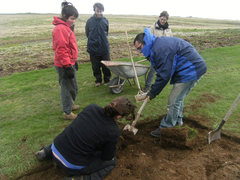 There were 7 volunteers from Italy, France, Canada, Iceland and Ireland. The location was very isolated and seven hour drive from Reykjavik.
Accommodation –two rooms of beds, a bathroom and a kitchen. It was very basic but had good facilities.
The work consisted of clearing and maintaining a farm and hostel. The local farmer produced own brand ice-cream and sold it in the local village while hikers trekking glacial areas would stay in the accommodation on arrival.
Leisure: As the location was very isolated we had the opportunity of trekking one of Europe's largest glacier and mountain climbing (be sure to have health insurance)!, learning about our background cultures and socialising with Icelandic people.
Extra: The Volcanic Eruption!
I was there for the second volcanic eruption which grounded half of Europe! The whole sky went gradually dark and the following morning all the ice bergs were covered in ash.
Two of the best volunteer projects I have ever been on!! I'd go back there in a heartbeat!

Denise O'Connor, 2011 and 2012
Location Map