Fighting Discrimination and Racism in the Ukraine
I AM HUMAN! FIGHTING DISCRIMINATION AND RACISM IN UKRAINE
Is it your first time volunteering? Are you concerned about what you will find at the work camp? Who you will be meeting and if it is going to work out? Well, I had the same worries last August before going to Kharkov, the second largest city in Ukraine! The project: organizing a photo exhibition about discrimination and racism with 6 other volunteers and 2 camp leaders.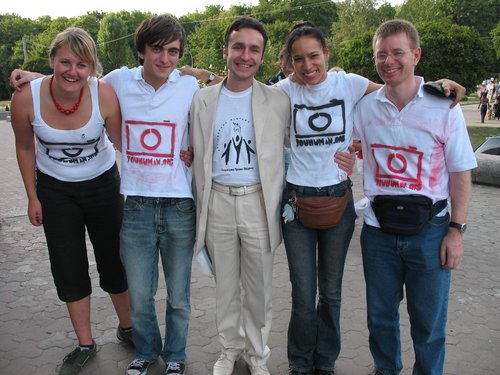 What an experience! First, I had to learn some basic Russian phrases, so I could say: "ya nye panimayu paruski": I do not understand Russian; "Vih gavaritye paangliski?: Do you speak English?"; "Spasiba": Thank you... Obviously, it was not enough to interact with the locals, but fortunately the camp leaders were there to help us out. The culture is very different, the money is different and the language is different, but after a few days, we could find our way around.
The living conditions were very simple. We were accommodated in a students' dormitory, right in the heart of the city. The shower and the toilets were basic and rudimentary. Imagine, a girl was warming up water in a kettle every single morning to have a hot shower... That was I!
Our first task, while getting used to the new place, was to take pictures, loads of pictures, for the future exhibition. The latter had to take place 10 days later. Some of the volunteers were very well equipped and had fantastic skills in photography. In total, we gathered about 20 gigabytes of pictures! Everybody finds a way to fit in the project. Those who had other skills, such as event planning or web design were more than delighted to use them. It was great to see every one of us contributing in our own way!
Finally we did it! After 10 hard working days under the sun nevertheless, and few hours sleep, we had a great exhibition! D-day was Sunday September 6th.We printed leaflets and posters in Russian, and contacted the local Non Governmental Organisation: Kharkiv Human Rights Protection Group, to give a talk. It was such a great success!! Lots of visitors turned up on the day, as well as 3 journalists to admire our 32 pictures! They are all available on our website.
We wished to show the visitors that we are all equal, and have all the same rights: The right to live, and be treated decently. "I am Human!" was the leitmotif of the exhibition.
Beatrix Lafosse, Summer 2009
Location Map