Environmentally Aware Online Volunteer Project - Senka Nenadov
Read the online volunteer experience of VSI's very own ESC volunteer, Senka in which she learnt about the environment and sustainable solutions - Europe North America Australia & Japan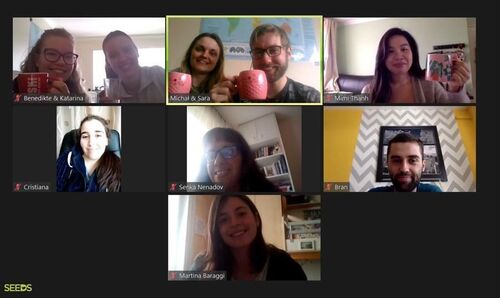 While volunteering with VSI during my ESC project, I had an amazing opportunity to participate in the SEEDS 'Environmentally Aware' online project. This was a really nice and rare opportunity for me to learn a lot about sustainable living regardless of my physical disability. Normally, physical projects are not suitable for my physical needs. But even if there are many things I can't do physically, this was a lovely reminder that there are still many things I can do for the planet we call our home. Even as a child I was interested in topics related to ecology and natural science. I loved spending hours and hours watching Animal Planet and other documentaries about nature and animals. It was my passion! My dream was to become a scientist and work in Africa to help save elephants. Since then, my professional interests have changed, and I have discovered some other interests, but I still love nature and want to do something to reduce the negative impact that I as an individual, living in a contemporary big city, have on our planet.
Usually these projects are held in person in Iceland but even though the projects are online for the time being, I didn't feel as though I was missing out. After each daily Zoom meeting with my fellow participants and project leaders, I came away from the sessions feeling more and more knowledgeable and optimistic, and it filled my day with so many happy hours researching, sharing and learning all about sustainability and climate action. The project surpassed all my expectations and I made amazing connections with people from all over Europe. We had participants from Slovakia, Italy, Ireland, Portugal and Serbia and we had an amazing time sharing our ideas and experiences together. I came away from the project with a warm feeling in my heart, and a great appreciation for our little online community knowing that we all share a collective appreciation and passion for sustainability and ecology. Our project leaders, Sara from Slovenia, Benedikte from Estonia, and Michael from Poland were amazing and engaging and were incredible in bringing this message to us while making us laugh constantly throughout.
During the project, we calculated our ecological footprint and discussed ways of reducing our food waste and cooked vegetarian, meatless meals together, shared our ideas, learnt about environmental issues and talked about possible solutions. We learnt how to reuse and repurpose everyday plastic or non-recyclable items and broadened our minds about how we can implement these initiatives in our home countries. I especially loved the topic of sustainable fashion. Now I have an idea to run my own workshop about upcycling. We also watched interesting documentaries together and got to know and appreciate one another other's cultures and languages. Finally, we participated in a competition for the best youth sustainability idea! I really enjoyed this online volunteering experience experience, and would recommend this learning opportunity to all young people interested in ecology.
Senka Nenadov