Environmentally Aware Online Volunteer Project - Holly Power
A VSI and SEEDS Iceland online project about the environment and sustainable solutions - Europe North America Australia & Japan
I had the amazing opportunity to experience and be a part of the SEEDS 105 Virtual Camp Environmentally Aware Learn from Home project with SEEDS Iceland. Before signing up, I was looking for a virtual project that I could learn more and share more about sustainability with like-minded people and also work towards my ALIVE Award with NUIG and my Gold Gaisce's Award, but I was unsure of what exactly to expect. I have a real grá for all things sustainable and was really happy to see that I could still take part in volunteer work even during the pandemic, learning from home.
Usually the projects are held in person in Iceland but even though the projects are online for the time being, I didn't feel like I was missing out, and after three hours a day meeting my fellow participants and camp leaders, I truly came away from it more knowledgeable and optimistic, and it filled my day with many happy hours with researching, sharing and learning all about sustainability and climate action.
The project superseded all of my expectations and I made amazing connections and met people from all over the word. We had participants from Colombia, Suriname, Brazil, Ireland, Slovakia, the Czech Republic, Turkey and Kazakhstan and we had an amazing time getting to share our ideas and experiences and I came away from the project with a warm feeling in my heart, a great appreciation for our little community and together sharing a collective appreciation and passion for sustainability and ecology. Our project leaders Julcsi from Hungary, and Clarisse from France, were amazing and engaging and were incredible in bringing this message to us and somehow made us laugh constantly throughout. We broke the ice with virtual drawing games, baked bread and cooked vegetarian fake meat together, shared our ideas, learnt about environmental issues and talked about possible solutions. We learned about how to reuse everyday plastic or non-recyclable items for a second purpose and broadened our minds about how we can implement these initiatives in our home countries. We watched interesting documentaries and got to know and appreciate each other's cultures and languages, and then finally took part in relaxation, meditation and yoga sessions to wind down.
I thoroughly enjoyed my time as part of the SEEDS Iceland virtual project and I believe it's a great way of learning more about how we can help the environment in a fun and engaging way.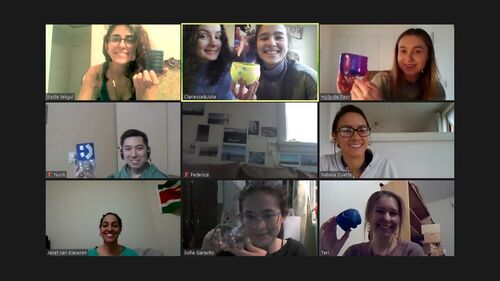 Holly (top right) and the other participants showing the clever way they reused old plastic water bottles to make pencil holders.
Holly Power