An environmental adventure in Killarney National Park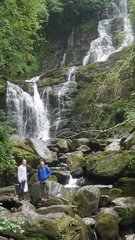 When signing up for the Killarney National Park Woodland Conservation Project with VSI, I felt slightly apprehensive. After all, the majority of volunteers, I was told, were young and I didn't fancy ending up in the role of babysitter. Then the faraway location concerned me, not to mention the instructions about meeting at an exact time and at the local train station. Would I rise to these arrangements?
As it turned out, my misgivings were unfounded. It came as a very pleasant surprise to find myself part of a group with far-flung roots, in Spain, Poland, Belgium, Switzerland, Russia and even distant Taiwan. We all pulled together as a team...where I never saw anyone slack off - whether working outside or keeping the house tidy and clean.
In the right company I will normally sneak my ecological concerns into the conversation. With the group in Killarney I found I had no need for such behaviour as we all seemed to be thinking along the same lines. In fact, I even found myself being taught new things about nature and the environment. Being surrounded by such people made me feel very reassured. But then this particular VSI project, an environmental conservation undertaking, might be expected to attract like-minded enthusiasts.
Our accommodation was in a big house in the Killarney National Park, only five minutes stroll from the famous Killarney Lakes. A bit far from the town, admittedly, but perfect for nature lovers given to rambling.
In our assigned labours to eradicate the rampant rhododendron bushes, we got to view the deep and ancient forest of Killarney at first hand. Its landscape is utterly breath taking, with its board leaf trees, weather-beaten stones and beautifully-patterned mosses - a countryside to put Lord of the Rings film sets to shame. Over the first few days I took photographs continually, in the hope of preserving in my inner eye the series of beguiling scenes encountered all the time.
The friend who recommended I take part in this project wasn't far wrong when he promised it would be life-changing. A year later the people I worked alongside and the happy experiences I had remain vividly among my memories.
The trip, it must be emphasised, was far from a walk in the park. The land in Kerry is rugged and difficult to deal with. The weather can be a pure torture, attracting midges that bite like tigers. Yet the staggering beauty of the place, its variety, brought a real genuine dimension to the whole experience.
So if you are wise and keen for adventure, pack your bags. Get going. Two weeks away from work or between university semesters - with an energetic commitment to break the rhododendrons' hold on the soil - will yield rich rewards. You will walk away from Ireland a more contented and refreshed person, the better from having been immersed in the beauty and one of treasures of the world.
Mark Donnelly, volunteer in Killarney National Park (summer 2017)
Location Map