A Personal Reflection on Volunteering - Alyesha Bartley, Online SCI volunteer with SEEDS Iceland
Read Alyesha's reflection piece on volunteering for the President's Award (ALIVE certificate) with NUIG! - Europe North America Australia & Japan
What is the most enjoyable or personally rewarding aspects of the activities you volunteer with? What did you gain from your experience?
Something invaluable that I gained from my experience with SEEDS was the inspiration to be creative. In the last few years of my life, I unfortunately subconsciously suppressed the creative side of myself. I did not actively seek out creative mediums as a way of self-expression and if I am being honest, I felt as though I wasn't able to do so, that I had lost this part of me that I once valued so deeply. The project made me realise that there are infinite ways to be creative that extend far beyond the traditional conception of creativity. Therefore, I have become inspired to cultivate this trait once again. To pull it from the depths of my being and to simply have fun with it. To enjoy figuring out how to repurpose old items or how to reduce waste and how to ensure that each item that comes into my possession has the opportunity to have a multitude of teloses in order for myself to lead a more sustainable life. Another rewarding aspect of the project was being able to meet like-minded people from around the world. To be able to connect and bond with others who are committing to a cause that is much greater than ourselves. Being able to enjoy and laugh whilst still sharing the ultimate goal which is to respect this planet that we all call home. I met some tremendous people, each with something special to offer. Every time I participate in something similar to this, I always feel a sense of gratitude towards the impressive people involved and the meaningful connections I make.
What aspects of your volunteering experience did you find challenging? This can be personal and it can be about the volunteering itself.
Something that I found challenging about my volunteering experience was facing up to the reality of how humans are altering the natural world at a frightening pace. They say that ignorance is bliss and I firmly believe that the majority of the western population prefers to turn a blind eye to the actions and consequences of our mechanistic worldview. The earth is not a machine nor is it our resource. We were not put on this planet to dominate the natural world if anything we are merely guests on the earth. Perhaps Mother Earth views us as the fleas on her back and she may be preparing to shake us off - if we do not swiftly change our ways. Environmental justice is a topic that I am very passionate about. In the DRC it appears as though a history of brutal colonization is being repeated. Children - from the age of four - are sent to work every day in unmonitored cobalt mines. Working like modern-day slaves where 12 hours of punishing work may earn them the equivalent of a pound, in harsh and hazardous conditions. Cobalt is an essential ingredient in lithium batteries that power smartphones and laptops. These children - who sometimes go for days without having a bite to eat - are helping to make millions for MNCs in America and China. How can we allow this to happen? These children and their families live in squalor while the major corporations reap the benefits of their labour.
What are the benefits/ impacts for others as a result of your volunteering ? What are the benefits of volunteering to wider communities and society?
I made the choice to become vegetarian and also realised how privileged I am to have this option. We all can make small changes to our daily lives in a bid to become more eco-friendly. The impact of my participation in the project can benefit everyone and everything. It was an ad hoc type of project, but the skills and mentality gained are forever. One of the most pressing issues of our time is our treatment of and our relationship towards the planet. We must return to our roots and reconnect with nature and understand that by living in harmony with nature we are ultimately saving ourselves. What we do to the earth we do to ourselves. That connection then can transform the despair, the grief and the rage that we feel and inspire collective action.
Through volunteering children are tutored, the elderly are delivered meals, trees are planted, and pets are looked after. Volunteering is an easy way to help other people and it provides us with an opportunity to connect and be a part of something bigger. Helping with even the smallest tasks can make a real difference in the lives of people and animals, and to the communities and organisations in need. Volunteering has benefited me just as much as it has benefited the cause. It has helped me to make new friends, expand my network and boost my social skills. Volunteering is also beneficial for the mind and body. We live in such a disconnected world at the moment, but we can utilize volunteering as a tool to combat stress, anxiety, and depression. It also increases self-confidence and instils a sense of purpose. One of my fellow participants expressed at the end of the project how it really helped to grow her self-esteem and made her feel surer and more confident in herself. I thought that was very touching. Even though the project was geared towards creating environmentally aware consumers and travellers I could see the interpersonal benefits it had on everyone involved as well. Volunteering also brings fun and fulfilment to life and like I've mentioned previously it has renewed my creativity and motivation.
What are the underlying social/environmental/civic or other issues your volunteering is related to? (For example: education, disability, health, etc.) Do you think your volunteering addresses these underlying issues, and if so, how?
The SEEDS projects are explicitly related to the environment and sustainable living. Environmental concerns and the topics covered during the project encompass social and civic issues also. Our exploitation of the planet is seen on international, national, and local levels. The same is true of the reverse. Our respect and care of the planet can also be seen at every level. Climate change is forcing more and more people to flee their homes because of flooding, drought and extreme weather. Sub-Saharan Africa and low-lying coastal regions are especially at risk. Experts believe that millions of people will be displaced by climate change over the next half century. Mass migration affects us all nationally and internationally and is only one example.
However, it is not all negative! Living life in accordance with nature should be rewarding. We need to step away from the mechanistic linear world view and embrace the cyclical way of life. Going out and experiencing nature improves our health and our happiness. Taking action is not about sacrifice and it is unnecessary to view it as such. For a lot of people climate action is viewed as a sacrifice or an effort – more work to think about on top of our already hectic lifestyles. However, I claim that it need not be this way. If we empathise with nature, we realise how interconnected everything is. We notice the fragility of ecosystems and discover our humble place among them. There need not be a hierarchical chain of being that separates humans from the rest of the natural world. There need not be this duality between man and nature. We are nature, we are the universe experiencing itself.
"Through our eyes, the universe is perceiving itself. Through our ears, the universe is listening to its harmonies. We are the witnesses through which the universe becomes conscious of its glory, of its magnificence." - Alan Watts
What are your plans for volunteering and civic engagement in the community for the future? Would you like to continue in volunteering activities, if so, why?
Absolutely. My granny passed away after being diagnosed with Alzheimer's disease a few years ago. She was the most amazing woman that I have ever had the honour of knowing. She had the biggest heart, was renowned in her community and I miss her every day. I want to participate in the Western Alzheimer's befriender programme which is unfortunately on hold due to the pandemic. Western Alzheimers' befriending service is companionship for people with dementia to support them at the early and later stages of dementia. This service offers friendship and stimulation. It also supports the carer by providing a break for them. Helping vulnerable people is so important, especially the elderly who deserve our utmost respect as they came before us, helped paved the way and ought to have the right to live out the rest of their lives in a dignified manner, surrounded by love and support.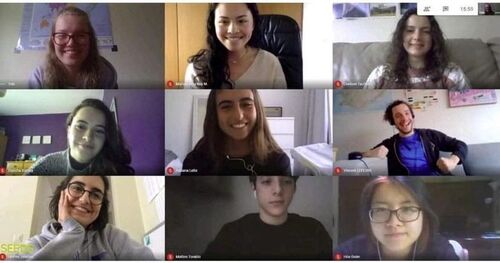 Alyesha (middle-right) and other participants taking part in SEEDS Iceland's Environmentally Aware online project.
For more information on ALIVE, please see here.
Alyesha Bartley