Working with young people in conflict with the law in Belarus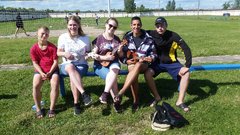 I've been living in Minsk now for 6 months. It's been fantastic, learning and living in a new country and culture, experiencing new things and learning a new language.
The main focus of my EVS is working with young people in conflict with the law. These are teenagers from 12-18 who have committed minor crimes. The sentences can be anything from three months to two years in closed educational institutions. My hosting organisation World Without Borders (WWB) is the only organisation with access to these teenagers. We do a variety of activities with them. From day visits to camps of up to 5 days we work with the teenagers on many important issues. The majority of them come from disadvantaged backgrounds and have fallen into these crimes due to a lack of support and care. We discuss values, education, we work on team building. Our face to face contact and time is obviously very important, and we're a good tool for our organisation to keep the teenagers engaged as a lot of them have never travelled abroad before so talking to a foreigner is exciting for them. I'm very proud that I've reached a level in my Russian that I can have conversations with these teenagers and start to go below the surface questions of "What are your hobbies?" etc. In addition to this I write letters to some of them. This is great for both parties, I get to practice my Russian and they have contact with the outside world, someone they can lean on for support and ask advice. Those that can't write often get their friend to add their name at the end of the letter.
Sport is obviously a brilliant way to ensure participation of the whole group, we hold different activities during the camps encouraging team work, we even had the Minsk football team come to one of the institutions to talk about working hard to achieve and having trust in your team, of course the highlight for our boys was getting to play a game against the team. Music is another way I have overcome the language barrier. I bought a Ukulele before departing for Belarus and it was the best purchase ever. I take it on nearly all my visits. It's a great ice breaker. Whether they just sat and listened or they wanted to learn how to play, it really attracted the attention and engagement of these young people. I've seen the positive work WWB has done with these young people, and I've seen how effective it is. They stay in touch with them even after they leave the institutions and hold support meetings. We even had one graduate participate as a volunteer at some events. It's really heartening to see such a positive change in a young person's life. 
Ruth Byrne, Belarus (2017)