What's it like finishing your ESC project online?
The Covid-19 pandemic has meant that I have spent the final three months of my European Solidarity Corps project not in sunny France, where I had been volunteering in a collège since October, but instead online from (relatively!) gloomy Ireland. In a year full of surprises, probably the biggest one for me was how disappointed I would feel at being unable to complete my project in person. I hadn't realised how attached I had become to my life in France.
Setting out on my project journey last year, my aims were to improve my French language abilities, meet new people and make new friends, and to experience "la vie en France" for the year. I had graduated from university, and what with the pandemic and all the entailed unpredictability, teaching English for a year in France seemed as good an option as any presented to me!
And what a great six months I did have. Despite lockdowns and restrictions - "les mesures préventives" - my fellow volunteers and I were able to spend our free time exploring Brittany's cities and countryside - beaches and les boulangeries galore - while also getting to learn so much from each other about the various European countries we came from. This ranged from multilingual political debates to more trivial matters, such as my Danish friend who introduced us all to the Danish delicacy of 'pålægschokolade', or 'sandwich chocolate' - thin strips of chocolate eaten on rye bread for breakfast. This quickly became a firm favourite of mine!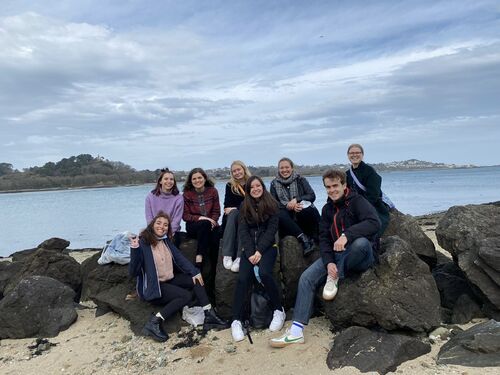 Marie-Clare with fellow volunteers enjoying a day at the seaside in Brittany
Meanwhile at the school where I volunteered I probably learned as much from the experience as did the children I was teaching! I assisted both the English Language Department and the European Studies Department in planning and delivering lessons, established and led lunchtime 'Irish' clubs, assisted at the after-school homework club, and attended weekly Breton lessons. My fellow staff were so welcoming, while the students really did make me laugh everyday. My parting gift to them is the Donegal accent they have adopted when speaking English!
The past few months have been truly some of the worst for society as a whole, but for me personally, they will be remembered as some of the best. I have gained so much from my ESC placement, be that the laughs shared with colleagues, the friendships forged in this shared experience or the little habits of French daily life which I shall carry with me forever. I must be thankful, I suppose, that it is au revoir, and not adieu.
Marie-Clare Gallagher