"We are what we do" - EVS in Spain
The EVS Program wasn't the first time I'd volunteered. My passion was sparked in 2008 when I participated in some international short term projects in Nepal, Jordan, Thailand, Peru and Bolivia. When I came back to Dublin in 2009, I joined the national committee of VSI on a part time voluntary basis and it was there where I was introduced to the EVS program which mobilizes European citizens under the age of 30 to participate in over 600 social and environmental projects across Europe.
A decision to dedicate a year to full time volunteering is not easy.I had many personal motivations for doing so but I guess for me they can be summarized in the simple slogan of my host organisation, Paris 365: 'somos lo que hacemos' or We are what we do.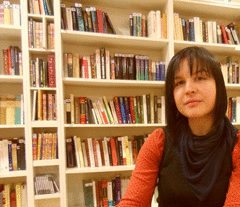 My experience
Paris 365 opened its doors three years ago with a primary function as a social dining room providing 3 meals a day for €1 to those most at risk of social exclusion in the navarra catchment area. Besides, the dining room facilities the foundation run additional complementary programs including a play-school, legal support services, a housing program, training and development institute, psycological services and a social centre for our service users.It's there in the social and training centre where my task work is mainly undertaken as I act as first point of contact as one of the coordinators, supporting the delivery and logistics of I.T and language courses, organizing recreational and cultural activities, providing ad-hoc translation support and looking after our library. The centre itself is only a year old but we've seen the numbers of service users nearly triple in comparison to this time last year! It's a lot of work but very rewarding!
Its impossible to talk about my experience without mentioning the people here. Some of the people I have met, especially the other local volunteers are truly inspirational! Paris365 operates with over 500 volunteers who tirelessly dedicate their time to sustain the organization in the face of severe cuts in public funding that are devastating social services all over spain right now. They are an inspiring and empowering example of how ordinary or rather extraordinary people can pull together within our communities to protect its most vulnerable and initiate a sustainable change.
I have also found my second family here within the service users of the centre. They are always making me laugh, they teach me new things everyday and have given me the gift of looking at and experiencing life through the eyes of people who, at times, have a completely different background to me. Time is flying. I have 3 months left. I can already predict the tears when it comes to leaving them at the end of the project.
Your opportunity
For anyone that is thinking of applying for EVS or other volunteering program. As we say,
Action speaks louder than words... Rather than taking about it ...do it.. It will be a memory that will stay with you for the rest of your life! To quote my favorite Irish writer..... "The smallest act of kindness is worth more than the grandest intention"
Deirdre Treacy is a VSI EVS volunteer from Carlow. Deirdre arrived in May 2012 to Pamplona, Spain to work under the at the NGO, Paris365. The Foundation opened its doors three years ago with a primary function as a social dining room giving 3 meals a day for €1. In the mists of the crisis service demand is growing 25% year on year as Spain's unemployment rate now (2012) tops 24%.
Deirdre Treacy, Spain (2012)

Location Map