Teaching in Germany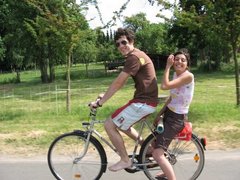 I applied to do a volunteer project in August 07 and I was accepted in early November. My project started in January 08.
I am working in a school for children with special needs in Kassel, a town in the centre of Germany. I am in a class room with eight children, six of whom don't need individual help and two of which who do. I am taking care of one boy who is autistic who needs individual help. I am always with him and help him with school work, eating and take him out of the class when he is too loud. The children in the class are between 14 and 16 years old. In the school the children range from 5 up to 19 years old. I work monday till friday, monday tuesday thursday from 8am till 3pm and wednesday and friday 8am till 1pm.
Before I came I had no experience working with people with special needs but the staff in the school are very nice and everything has gone very well and I have learned a lot.
Etienne and friend enjoying a day out cycling
I had studied German for 5 years up until my Leaving Cert so language was not a big problem when I arrived. It has gotten a lot better since I am here though.
I live in an appartment with six other voluteers. They are also doing their voluntary work in Kassel and are doing all sorts of work. German is the common language as the other workers are from Spain, Estonia, Hungary, Greece and Russia. The ages in the appartment range from 19 up to 26 years old.
The on arrival training I did was very interesting, I got to see new parts of Germany and got to know a lot of other European volunteers doing their projects in Germany. I will be doing my mid term training seminar in June.
My experience so far has been very satisfactory and I would recommend it to anyone searching to learn new things and experience something new.
Etienne Corish, Germany (2008)

Location Map