Short-term EVS in Albania, 2018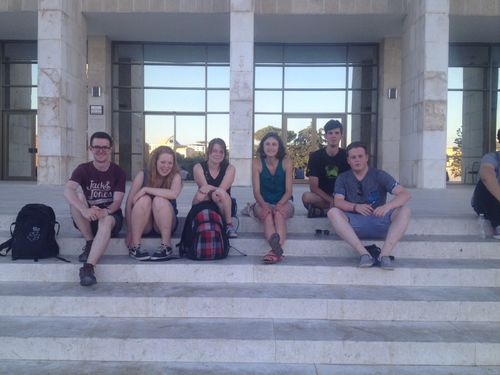 Last summer I made the seemingly perplexing decision to move to Tirana, Albania for one month. It confused many of my peers as few had heard of the small Balkan nation besides referencing Liam Neesons "Taken" films to me. My expectations had peaked greatly when I knew I would soak up sufficient Vitamin D capable of bolstering me through the long and cold Irish Winter that lay ahead. By getting involved and taking myself out of my comfort zone I learned so many new things about my own capabilities and strengths. I immersed myself into a completely new culture and found that it was one rich with history and pride. By taking such a leap into the unknown I found that I was not to worry. The hospitable nature of the Albanian people was evident in every encounter I had. All of which made my stay very enjoyable.
                Once I landed in Tirana airport I knew I was in for a brand-new experience, the light of the sun had shone through the airplane as we landed amidst the mountains and the first step off the plane was like walking into an oven. I had come as well prepared as I could've but there was no easy way of adapting to the vastly different climate from Ireland to Albania without a few teething problems. I learned that sweating profusely would just be a part of life now and there was little else to do but embrace it. Once I stepped off the bus in Tirana city I was met by a moped driver who just whizzed by on the pavement. The maniacal driving skills of Albanians became apparent instantly, black Range Rovers and Mercedes commanded the streets with less illustrious motorists and navigation for a pedestrian is really a struggle. Albeit, for a traffic system that looks terrifying to most in Western Europe I soon adapted and began to learn to be patient and command control of the streets when I was to cross. A technique of bravery that embodies Albanians. I was soon given a glass of raki to calm my nerves accompanied with an espresso. A past time that I possibly enjoyed too much. The relaxing nature of Albanian bars lull you into a constant holiday mode, very far from the usual hustle and bustle of other major cities.
After the settling down period, it was time for work. A group of several international volunteers and I were to help in the running of a Summer camp for Albanian children from the Roma community. We helped the organisers and facilitated the smooth running of the camp. I primarily played football with the children and learned that it takes a certain amount of energy to play with hyper children in 40 degree heat. I enjoyed being a part of the International Volunteer Project so much as it was so rewarding speaking what few Albanian words I had to the children and them responding with their words of English. The children were so friendly and passionate to take part in any activity and it truly was a joy to be a part of.
I had two weeks remaining after the International Volunteer Project and then went to explore Tirana and Albania further. The communist bunker is a real sight to behold and helps you to understand the country more. While Tirana is a rather industrial city, the newly renovated Skanderbeg Square is a great amenity within the City centre. With regular concerts throughout the summer it was an ideal place to relax in the warm evenings. One striking point of Tirana was the way in which the elderly were seen out in the open much more often than here in Ireland. Climate of course plays a role but family is evidently very important to the Albanian way of life.
While it may not have been a typical Summer trip in visiting and volunteering in Albania it was one that I already look back on with much fondness. The weather, peppery food and hospitality of Albanians made it a month to remember and one that I will cherish for time yet to come.
Caoimhin Rowland