My EVS project with PVN Albania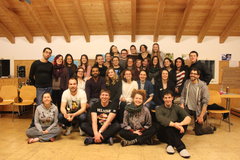 The world faces a huge, often seemingly insurmountable range of problems. Whether these be economic, social or otherwise, people with the fewest resources and opportunities always bear the brunt of their impact. Values such as solidarity, interculturalism and active citizenship are of paramount importance in solving these issues, building peace, prosperity and making the future brighter for everyone. The advancement of these values is the aim of EVS, and having long had a deep interest in the world and a desire to see its development into a more equal, just place, EVS was a natural step for me.
I am based in Tirana, Albania, naturally a vastly different society than what I am used to, being from Ireland. The scale of the problems faced by the Albanian people is daunting, with the frustration at the lack of opportunities being ever-present among young people. Discrimination and racism are widespread, particularly towards women and the Roma community. Attitudes remain deeply conservative regarding women's rights, with women often still being expected to do as they are told by their fathers and husbands. The education system is woefully underfunded, leaving a huge number of children in substandard classroom conditions with a poor education when compared with the European standard.
Naturally, my activities as an EVS volunteer in Albania target these problems and I work closely with other volunteers, Albanian and international. Our main activities are visiting schools and a Roma youth center in the Tirana region, in which we hold workshops on topics such as human rights, bullying, non violent communication and English. In addition, we host training events for university-age participants to develop their knowledge of human rights issues and instruct them in dealing with instances of racism and discrimination that they experience or witness. It is incredible to see how much it means to these young people to meet people from other places and their commitment to making their country a better place.
Taken one at a time, these activities may seem like they could have only a marginal impact, but bit by bit they contribute to changing mentalities that keep women and minority communities, like the Roma people as second-class citizens. This increases the future prospects for so many here in Albania who want to see their country as a place where they can live happily, free from discrimination.
For me, EVS has allowed me to become a truly active European citizen. In addition I have been able to experience the benefits of interculturalism, and contribute to that experience for others. Cooperation and solidarity between different nationalities is the way forward for the world as a whole. We all have so much to learn from each other.
Shane Owens, Albania (2017)

Shane Owens