My EVS in the Netherlands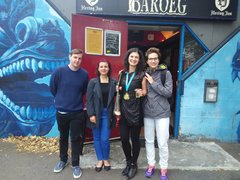 I am doing my project in Rotterdam in the Netherlands. The title of my project is introduction to social entrepreneurship. The idea of the project is to improve the South side of Rotterdam which is one of the most disadvantaged areas in the Netherlands. The organisation that I am doing my EVS with is Lava Legato. Lava Legato work in conjunction with other organisations in Rotterdam in which I volunteer in.
There are a range of activities in which I can volunteer in. On Monday I garden with people with special needs and autism in neighbourhoods. We garden in older peoples' gardens. This activity can help the image of Rotterdam. On Tuesday I volunteer in Sportieve Handys. It is a gym for people with disabilities; both physical and intellectual disabilities. I help people to workout and exercise using the equipment. There is also a dance class in which the people who attend can participate in. I helped the preparation for their dance performance which they were practicing for a few months. I really enjoy this activity as it can encourage and help people with challenged needs to participate in activities in which they once might have thought it would not be possible to do so. On Wednesday I volunteer in a facility for people with brain injuries, MS or other mobility problems. I can do a range of brain exercises with the clients. I can do different activities with them such as board games, computer exercises, painting, and also there is a gym where the clients can workout. This activity has a very relaxed atmosphere which I think is very good for the clients. On Thursday and Sunday I work in the confiture which is owned by Lava Legato. During the week different volunteers who are doing this EVS project help make the confiture with students in special education. Together we make a range of different confitures which is sold in the café and also in high end hotels across Rotterdam, the Hague and beyond. This is the social entrepreneurship aspect of the project. The profit made from the confiture goes back into Lava Legato to fund the organisation. I also volunteer in a local primary school during the lunch break but it is closed for the summer holidays right now. I like volunteering here as there are different activities each day. I chose this project because of the range of different experiences I would be getting during my eight months here. There are more than I mentioned such as cooking for people with disabilities, boxing school, art gallery, a farm, and other gardening activities.
I have also enjoyed my day to day life in the Netherlands. I really like the cycling. I cycle to random places and I enjoy visiting other cities this way also. I really hope I would be able to continue to cycle when I get home because this will be a hard habit to break. I have also joined a swimming class in Rotterdam and I have enjoyed it a lot even though it can be tough. The people there are mainly Dutch but they are very helpful in translating everything for me in what I do not understand. The Dutch language can be hard to grasp. I want to learn it as I want to have better interactions with people but at the same time it can be difficult to learn because so many speak English really well. Overall I am happy that I came here and I look forward to the rest of my experience here.
Andrew Hogan, the Netherlands (2017)

Andrew Hogan