Exchanging experiences from Honduras and Ireland, 2018
Doing an EVS at the other side of the world in a country with a parallel reality from your country is the best way to really experience both sides of the world, to experience others people realities and lifestyles that are completely different than yours.
Barry from Ireland did his short term EVS in San Francisco de Yojoa, Cortés in Honduras, he was volunteering as an English teacher assitant in Fundación AHLE and Lilia from Honduras is doing her short term EVS in VSI's office in Dublin, helping the staff with Marketing and Communication. They met in Limerick to share their experiences.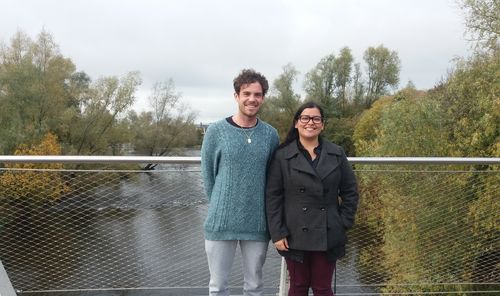 Honduras and Ireland are far away from sharing realities and quality of life standards. No matter if you are from Ireland going to Honduras or the other way around, you'll notice the differences in everything.
"I can feel the differences from what I'm used to in Honduras even in the smallest things, like walking on the street or using the transport, sometimes it feels like a different world." Lilia
"When I went to Honduras I could not believe that, we stay here in Ireland and in Europe in our kind of privileged position and we see these things in the news and we nearly convince ourselves it's not really going on and when I got there I was like this really is happening. And all I can do is try to live my life in a certain way and help people when I can, and hopefully someday I will go back to Honduras, and be able to do something else." Barry
Volunteering can change your life in many ways; it helps you understand how the world functions, how privileged you are even if you don't have a lot. You get to see the world from different perspectives and you learn to love other countries in a special way.
"I loved the thing that everyone is just living kind of day to day, I enjoyed that, because we get so caught up in our own irrelevant stuff, out there everyone is working in their fields eating the food that they've grown, the little community shops, smaller shops not big huge supermarkets, and everyone knows each other and everybody says hello. Everyone just walks by and they go "Adióoos! Adióoos!" I used to go around and say it." Barry
"I have met people from different countries of Europe and I found it so exciting to hear their stories, to know about their lives and experiences, you can learn so much from one person. I found people in Ireland so nice and relaxed, like, just walking, going places and living their lives." Lilia
Barry McEvoy from Ireland and Lilia Enamorado from Honduras (2018)