An amazing time volunteering in Tirana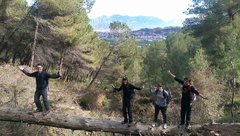 My experience doing volunteer work through European Voluntary Service (EVS) was simply phenomenal. I had the amazing opportunity to volunteer in Tirana, Albania with the organisation PVN.
There I worked mainly in schools and centre's with Romani children and children in street situations organising activities and providing English learning support. The work we did there was always engaging and productive. The children were amazing, all incredibly friendly and eager to participate in any activities that were organised by PVN which made the experience enjoyable but also more worthwhile.
The wonderful thing about having done my EVS in Albania was that I had plenty of free time to travel and really discover the country. During my time there I was able to explore Albania safely and easily both on my own and with the other volunteers.
I managed to visit nearly every hidden gem the capital Tirana had to offer and while also visiting other places like the beautifully historical town of Berat situated a few hours away from Tirana and yet an unbelievably cheap trip. This was also the case for a trip a group of us took to Kruja a breath-taking town nestled halfway up one of the many mountains scattered around Albania.
Throughout my time there I was able to partake in events outside of PVN. One particular event was a 2km night light run to raise awareness of the sustainable development goals organised by the United Nations. This was an unreal event and I was elated to have been able to be part of it.
Throughly I had once in a lifetime experience and would definitely recommend doing an EVS. It was a wonderful way to learn about another culture and develop new skills while contributing in some way and having a great support system behind you throughout the experience.
Megan Donnelly, Albania (2017)

Megan Donnelly