Why I volunteer with DLG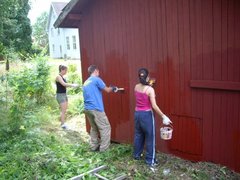 DLG has become so much a part of my life (and my Saturdays) that it seems like I have been a member forever. But it must be well over ten years since I joined. I had always enjoyed painting at home, and DLG seemed like a good way to do something I liked and also help out in the community.
During this time I have learnt a lot from basic wall painting (there are many shades of magnolia) to the delights of matching a wallpaper pattern. Thankfully we don't need to do this very often but it can certainly generate some lively debate within the group! We even did a mural once, which turned out very successful. We have plenty of laughter to help the work along, so Saturday morning whizzes past in minutes it seems.
Every single client is different, some like to help (which we happily encourage), some just enjoy the few hours of company on Saturday morning and others are happy enough to head out and come back when it's all done. It's so good to see a face brightening up when they see the results. And for us, we get to know parts of Dublin we've never been to before.
And my fellow volunteers are just brilliant, always willing to go the extra mile to make sure we do a good job.
So it's true what they say, most os us get way more from volunteering that we put in. And that's good for everyone.
Éilis Gillespie
DLG Volunteer
Éilis Gillespie