Organic Gardening in the Friendship Village, Vietnam
When you set yourself the task of writing about your voluntary experience doing an international volunteer project with VSI is very difficult to know where to start: motivation to do it, the preparation, the first impressions, the highlights of the time spend there, the feeling you have when you come back, etc.
Normally the best thing is to start for the beginning. Why to do it. Why I did it, at least. In this sense, it is important to say that that was my first voluntary experience outside Europe. There are some moments when you feel you need to leave your comfort zone. That kind of resumes many other reasons I had for wanting to do something different, and that brought me to look for voluntary projects outside Europe. I decided at the end for VSI, after reading some reviews and as well, because it was the most economical option.
I think once you decide to go each person starts her/his own travel. Yes, the trip starts there, in the moment that your application gets approved, and the plan starts to get real. Then you start to prepare all the "material" things needed (visa, shopping, plane tickets, vaccinations, and an awful lot of research in internet!). But the most important thing is the mental preparation, that actually really starts when all the practical details are sorted; and that makes you wonder again why you are doing it! And if you actually want to do it! I kind of suspect that I´m not the only volunteer that a couple of days before leaving started to get scared and though that I was mental.
But everything changes, at least for me, in the moment you are on route. Then all the feelings you had before set into place. And you start to enjoy. I started to really, really enjoy the whole thing on a Friday around 2 o´clock in the morning, when my bus left to Dublin Airport. Fears left and what they left behind was a great feeling of freedom. Then from there to Frankfurt, then Hong Kong, and then finally Hanoi. A very long trip!
Then arriving in Hanoi. What an experience! Everything is so different! It´s a bit like being a child again and rediscovering the world again. The things you see on motorbikes!
I had the time to spend a couple of days in Hanoi before starting the voluntary project. Something I would recommend, because gives you time to settle into the new environment.
On Monday, I took a taxi from my hotel that would bring me to my project, around 11 km from central Hanoi. Great to feel that another adventure was about to start. I meet my fellow volunteers in the main office of the organization, Volunteers for Peace Vietnam. There were many other volunteers in there, from different projects, and most of them where staying in there. The lucky ones had air conditioner!
From there, we took a few taxis to get to where project was, the Van Canh commune, not very far away from the office. The Friendship Village. That was where the magic happened. Where I spend two weeks sharing my life with another 9 volunteers, from Vietnam, and from other parts of our planet.
There, we worked together in the garden, helping to make an area that used to be a dump a space to grow organic vegetables. I never took a before and after picture. I think none of us did, which is a pity because it was the only tangible part of the project.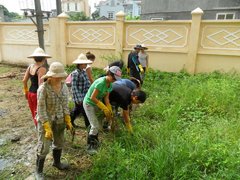 In the afternoon we also helped in the classroom with the children, and the workshop, with the people who have grown up, and stayed there working. In the evening we played with the children in the playground. And we try to make them smile. And we did. I suppose that was the main thing. To break their routine, to bring the world to the Friendship Village (If Mahoma can´t go to the mountain....), and to steal a few smiles. And in the main time, not just the Friendship Village, but the whole district, the whole city, and the whole country were brought into our hearts. They are still in mine, somehow. The Friendship Village is like a big family. They spend a lot of time together; they help each other, A LOT! they fight also... I would like to think that we volunteers are like relatives.
In between, we had loads of naps (It was sooooo hot!!), we also ate wonderful Vietnamese food together (after collecting it with a motorbike, of course), went to the market of the lovely Van Canh commune, and had even lovelier Vietnamese coffees in the local café. And we travelled together. And we had loads of fun. We had some misunderstandings too, due to the different levels of English, different accents, and different customs. But that is the beauty of it!
And then the two weeks were over. We packed, said goodbye, and went. Just like that. Believe me, two weeks fly. At least when you are having fun!
After that I travel a bit through Vietnam, with some of the volunteers who stayed in the country a bit longer, then on my own, and met up with the other Vietnamese volunteers, now my friends.
During the time travelling, I talked to lots of people. Many backpackers, and many locals, and I really think that most other travelers missed out something important. Something that volunteering gives you. Like, for example, going, like every afternoon, to the Café and having a "chat" to the bar tender (who knows already what you will have), with the help of Google translator. When you feel you have a routine in a place so far away from "home" ... that makes a difference.
Isabel Balchada Bermúdez, Summer 2012
Location Map