Assistant teacher in Indonesia
I volunteered through VSI for a medium term project for 4 months from August to November 2012 in Maria Regina School in Semarang, Indonesia. I took part in the VSI Preparation workshops and had several meetings with the VSI team before I set out in August.
My first week involved on-arrival training while living in the Volunteer House in Semarang. There were two other middle term volunteers starting that month so we had our training together.The training included some lessons in the Bahasa Indonesian language which proved to be very useful. Most people spoke some English but it was very handy to have and I really enjoyed learning it. When training was complete I moved into the house provided for my project and one of the other volunteers I had arrived with happened to also be on my project. We began in the school the following week attending school from Monday to Friday from 7.30 to 15.00. Maria Regina School has four sections: toddlers, kindergarten, primary and high school with students aged from 2 to 16. My role was as an assistant teacher in the school and I was initially in the Primary 1 class (age 6) and then moved to Toddlers (age 2). My main duties in the school included assisting the teachers with all aspects of the class and helping them prepare for class the following day. I helped supervise the students and assist in such classes as art and crafts, numbers, singing, dancing and English among others. I also taught the 'General Knowledge' module for all classes in the primary and high school. This mainly involved teaching students about Ireland and Irish culture, music and dance.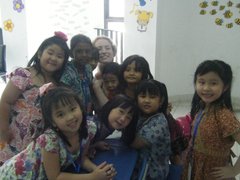 To anyone thinking about volunteering in Indonesia I would advise them not to hesitate! Before my volunteer experience I had little experience working with children but this project allowed me to work with children of all ages and all of the teachers in the school were incredibly supportive and welcoming. In addition to my project I was offered many opportunities to participate in short term workcamps and projects of various kinds including English conversation facilitation classes in the University in Semarang for a few Saturdays and planting Mangroves weekend work camp in Mangkang (on the outskirts of Semarang)
 Caoilfhionn with her 1st years.
Caoilfhionn Neenan, 2012
Location Map