Long-term volunteering in Palestine
Children and youth, Art, culture and local history, International solidarity - Middle East
Having reached the mid point of my EVS here in Palestine, the only thing I am sure of is that time is going too fast! I am an Irish EVS volunteer participating in the Youth In Action EVS to Palestine, along with 16 other volunteers from Italy, France, Spain, Sweden, Scotland, Holland and the Czech Republic. We are living in Jerusalem, Beit Sahour, Ramallah, Hebron and Nablus working in Palestinian NGOs and cultural centres.
I am living with five other volunteers in Alram, which lies just inside the separation wall north of Jerusalem. I have heard that this time last year the neighbourhood was an upmarket suburb of East Jerusalem (the many large houses in the area attest to this) but a few months ago, the area was completely closed off from Jerusalem by the wall. The wall now runs down along what used to be the main street, and now almost all the shops on this street and on others have been forced to close. Many houses are now empty and municipal services are non existent or poor. There is no rubbish collection with the result that it is all thrown in skips or empty plots of land and burned, where displaced Bedouin goatherds are then forced to graze their livestock. The water supply can be turned off for three or four days a week.
Working in East Jerusalem,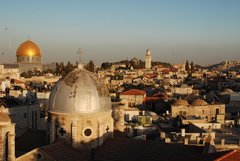 I pass through Qalandiya checkpoint everyday to go to Spafford Childrens Centre in the Old City, where I work. It can take anywhere between five minutes and two hours to pass through the checkpoint, depending on the number of people trying to get through, the number of turnstiles operating and the mood of the soldiers working that day. So your day and any appointments you might have made can always be subject to change according to the whim of the soldiers on the border patrol. Often people are denied access to Jerusalem, called into interrogation rooms and ritually humiliated and belittled by the soldiers. It makes life more difficult but serves as a constant reminder of the injustice and oppression suffered by the Palestinian people at the hand of the Israeli state.
I work with one other volunteer at the Spafford Childrens Centre beside Damascus Gate in the Old City of East Jerusalem. The centre was founded in 1925 and serves as a medical centre, counselling centre and cultural learning place for children and youth. My work has been primarily in the cultural department, where I have been holding arts and craft classes with children aged 4 to 13, giving basic English classes and redecorating the new medical department waiting room with a colourful mural. I also participated in coordinating a two week work camp of international volunteers in July. Thankfully the position leaves me enough free time to discover other interesting places and aspects of Palestinian culture, and to learn survival Arabic. The Spafford Centre is great in that it provides a safe meeting place for Palestinian children and young people of East Jerusalem who, through the practice of ethnic cleansing, are being forced outside of the city and crowded into ever more cramped conditions. Children living in the old City often have room to play only in the tiny winding streets already packed with people, stalls and wandering tourists. Palestinians of East Jerusalem are under threat of extinction as was recently seen in the neighbourhood of Sheikh Jarrah, where just two weeks ago 53 Palestinians were forcibly evicted from their homes which were then handed over the Jewish settlers.
As in the country as a whole, Jerusalem is a deeply divided city. The ultra-orthodox Jewish area of Meah Sharim where outsiders cause deep offence to the Haredi Jews who live there, and women visiting must adhere to strict dress codes, (my friends and I have been spat at and had rubbish thrown at us for failing to dress according to their rules) is only a few minutes walk away from Jaffa street, where young scantily clad Israelis can be seen bar hopping, an area which is, in turn, close to the old city, where Muslim women covered but for their eyes grocery shop accompanied by children dressed as mini Barbie dolls!
Summer is an especially good time to be here as there are many cultural events, international work camps and other one-off volunteering projects to participate in going on in Ramallah, Jerusalem and Bethlehem. In addition to which are the protests to land confiscation, housing demolitions and evictions in places like Al Masara, Bil'in and Sheikh Jarrah, which are attended by many internationals and groups such as the International Solidarity Movement and Israeli activists. The diverse character of the cities of the West Bank is complemented by their physical proximity to each other. I feel spoiled with all the beautiful historically and politically fascinating places to viit such as Hebron, Nablus, Haifa, Akko, Jericho, Jaffa, Jenin or Qalqilya.
We have had the opportunity to go to a few Palestinian weddings, which are without fail loud, colourful affairs where even the most demure wall flower will be coerced into doing her best imitation of Arabic dance, even if doing so illicits sniggers from all the children! I have been overwhelmed by the hospitality and generosity and friendliness of the Palestinian people, and their resolve and steadfastness in the face of the occupation and apartheid system under which they suffer.
At our mid term evaluation we were asked to consider the greatest change that has occurred to us while being in Palestine. For me, there have been a great many changes in my outlook, my perception of the factors which influence and shape the conflict, and also the capacity of human beings for cruelty and ignorance. Another important change for me was the normalization of violence in my daily life. As I come from a country where outward expressions of violence (like the carrying of a gun) are not a part of my daily life, I was initially shocked by the presence of these symbols of violence and war, the violence and aggression of Jewish settlers and by the abusive and aggressive behaviour of the Israeli army. It is impossible not to feel like you are being treated as some form of highly contagious farm animal on a busy day at a checkpoint, and for any Palestinian or Arab the treatment is far worse than for an international. Initially you experience frustration and indignation at being treated like cattle, but after a while it becomes a normal part of a daily routine - which is frightening in that it seems to take a relatively short amount of time to become accustomed to being treated in an inhuman manner.
I highly recommend Palestine as a place to go and to volunteer or just to visit - just beware of wanting to spend the rest of your life here! On such an emotive issue as the conflict, there is nothing so persuasive as seeing the discrimination with your own eyes, the irrefutable fact that Israel practices apartheid, institutional racial discrimination, and that through our tacit, economic support of Israel we in Europe and the rest of the world allow it to continue. Witnessing the occupation first hand has been a shocking awakening to the power of the media to govern my opinions, and the danger in the West of equating power with legitimacy.
My voluntary service will not end when I leave Palestine, but I will carry with me the mission to raise international awareness of the situation of the Palestinian people, to dispel misconceptions in Ireland and raise support for the economic, cultural and academic boycott of Israel. EVS has forced me to re-examine everything I have previously held to be true and objective and brought about a shocking realization of my own subconscious prejudices towards the Islam and the Arab world, and challenging what I thought I understood about Arab culture and my own identity as and Irish person and a European. So far my experience here has been the most interesting and educational and rewarding volunteering experience of my life I hope it will continue in this way. Shukran EVS and VSI!
Leah Sullivan, 2009
Location Map