Wood and Straw Festival Project in Serbia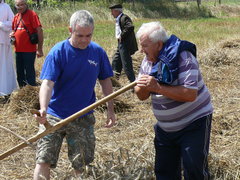 This year for my summer holiday I went to the "Wood and Straw festival" in Tavankut, Serbia as a volunteer with VSI, the Irish branch of SCI. I choose Serbia because I knew so little about that part of Eastern Europe and it was outside the EU. In July I travelled through Budapest and after joining the wrong queue several times I eventually got the train to Subotica, Serbia. There in the bus station I met the other travelling volunteers, there were twelve in all and we got the bus to a little village called Tavankut. We were given a warm welcome and shown to our accommodation which was a biology classroom in the local school (complete with skeleton!!). The school was a square with a lovely courtyard including a pond with turtles and a resident hedgehog. It was a nice place to hang out. All our food was cooked in the kitchen and we took turns to be on kitchen duty.
The first week we worked on the first international straw congress which brought straw artists from all over the world, mostly we were preparing the rooms but we had a try at making straw pictures and learning about straw techniques which was fun. It took the professionals up to thirty days to make a 3d straw picture so our efforts in one afternoon probably won't be displayed at the Guggenheim. There were concerts to celebrate the congress and we helped to clean and prepare the area. There were very strong traditions in Tavankut all of which were well practiced and performed at the concert. It was nice to see these different cultural traditions.
In the second week was the wood part, there was a beautiful wooded area about 5km from the school. Together as a group we devised, designed and made signposts for the forest to help trekkers find their way along paths. Our sign was a blue foot, I liked this and we argued and cajoled about whose foot should be the "model" for the sign. We broke into groups and erected the signs using tools from the village.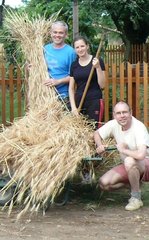 The best part of the holiday was getting to know the other volunteers, there was a fantastic mix of nationalities, I am Irish but there were Swiss, Belgian, Czech, Basque, Polish, German, Dutch, Catalan, Serbian, Spanish and Russian all together.  We found that we had plenty to talk about. I feel in Ireland we often view Europe as a big continental block, but meeting all these people reminded me that Europe is hugely diverse. And, as individuals, we have a lot more in common than we have differences. Serbia was beautiful with fields and fields of peaches, nectarines, plums and cherries. They don't realise different this is to northern climates like Ireland. Serbia is also a real crossroads, with Russia to the east, Germany to the north, Italy and Croatia to the west and Turkey to the south. I could see the influences of all these cultures in the daily Serbian life. I would recommend anybody to contact VSI and partake in a voluntary work camp. You never know what you will learn about yourself or the world we live in. 

Colm VSI Volunteer
Location Map