What does sustainability mean to you?
Read Sangha's personal reflections on volunteering for a more sustainable future - Europe North America Australia & Japan
June 5th is World Environment Day.
We cannot turn back time. We only have one earth. World Environment Day (WED) serves as a platform to raise awareness on the increasing problems facing our environment such as air pollution, plastic pollution, illegal wildlife trade, sustainable consumption, sea-level increase, food (in)security, among others. WED helps push for change in national and international environmental policy.
To help raise awarness about WED and celebrate all the positive steps taken for more sustainable future, we are sharing the inspiring work and personal reflections from our volunteer, Sangha!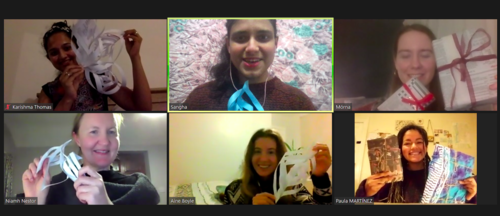 Sangha (top-middle) hosting one of her 'Conscious Christmas' workshops where she was demonstrating how to make a 3D snowflake as a re-usable Christmas decoration. VSI's Programme Officer, Aine (bottom-middle) was present as a participant!
What does sustainability mean to you?
I have been volunteering for a long time now and have become what I call a 'serial volunteer' at this stage! I am passionate about protecting our environment, so needless to say most of my projects have focused on environmental conservation. I had never thought of myself as a climate activist however, until very recently. During one of my volunteering stints just before covid happened, a fellow volunteer suggested that I participate in former US Vice-President Al Gore's Climate Reality Leadership Corps training in the summer of 2020. It was a truly life-changing experience, as I got the opportunity to meet so many like-minded people all working to solve the climate crisis around the world, and for the first time I saw the power of collective action to bring about transformational change during a time of crisis.
Since then, I have become a Climate Ambassador and an SDG Advocate for Ireland in 2021, and recently completed a Global Citizen Award! All of these initiatives focus on raising awareness about climate change through creative mediums, being active online through social media campaigning and writing (lots of!) blog posts, and planning action projects that create a measurable impact in the community. As part of these voluntary roles, I have also given presentations to green campus coordinators and local climate action groups, and very recently delivered an intercultural communication workshop to a group of third level students, where I spoke about nature as a cultural construct, our broken relationship with nature and how we can repair it.
As a research student at UCD, I am also very active on campus! I was involved in two major projects recently - a series of conscious Christmas workshops in December 2020 and a food waste campaign. For the first project, I organised arts and crafts lessons for beginners on creative ways to reuse discarded materials at home to make one's own presents, decorations, and gift wrappings in a bid to reduce single-use plastic and other waste during Christmas. The second project is ongoing and involves understanding the food waste problem on campus and devising ways to reduce it through composting and increasing awareness of the university community's food-based carbon footprint. This is a collaborative and longer term undertaking and requires support from many different stakeholders, including the estate services, campus restaurants, the innovation academy, ucd in the community, and nova ucd, which is the resident accelerator programme for student entrepreneurs.
I will finish with one of my biggest projects so far that started in ucd and expanded into the wider community very quickly (and finally ended with a global reach in 6 continents!). I curated a virtual photo exhibition in March this year which sought answers to the question 'what does sustainability mean to you?' through illustrations and photographs. The project was a huge success, so much so that I am considering running a sequel very soon! It is a useful exercise for us all to imagine what exactly a sustainable future should look like and work dedicatedly towards that vision. Each time I think about that question myself, it provides new ideas and insights, that I can then explore within my now thriving network of changemakers, and I can dare to envision that together we can build a more sustainable future that prioritises biodiversity, climate justice and livelihoods for all!
To learn more about her work read some of Sangha's blog posts here, including an article relating to her photo exhibition: https://sanghamitra-cmukherjee.medium.com/bridging-the-disconnect-between-man-and-nature-c61cdb60ffed
Sangha Mukherjee