Working for Human rights in Moldova
To say that Moldova is an interesting country would be an under exaggeration. My short time here has given me a brief insight into this admittedly small, yet diverse country. Whilst researching Moldova before my departure, every source that I found without exception stated Moldova to be the poorest country in Europe, quite a grim introduction. This gave me visions of a poverty stricken war torn country, as I had also read of the war of Transnistria and the conflict between in this region regarding it's inclusion as part of Moldova. I had decided to do my six month long EVS in Moldova as I was extremely interested in the project; a human rights non-governmental organisation, having had no knowledge of the country at all so I had no expectations.
I arrived into Chisinau airport and was greeted by Marina my mentor from my co-ordinating organisation, which was a great relief. The place, foreign to my own eyes did not give a pleasant first impression, especially in January where the formiddable below zero temperatures where alien to my own experiences. During my first journey into Chisinau I was surprised at how many shades of grey and brown that one city could produce. The skyline was penetrated with large grey tower blocks, a marked impact of soviet times, with large areas of park land that seemed to look harsh, sparse and unkempt. The roads too proved to be reminiscent of a pre EU Ireland. I began to wonder about the civil pride in the country, and the government's work in maintaining the asthetics of the city, this could not be doing the tourism industry here any benefits.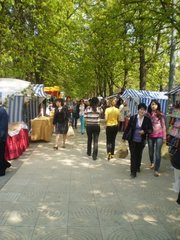 I had to remind myself that this is why I was here, to experience new places and that spring would bring nicer times. As the winter turned to spring, the city transformed almost over night with sun and blue skies, so previous shades of grey now revealed themselves to be pinks, blues, yellows. The temperatures have gotten milder, the patches of muddy earth began to bear shoots of green, trees showing signs of life and birds singing in the trees. The blocks of flats now show more character, with people hanging their washing out of balcony windows and people sitting outside in the ample public spaces with their children or playing backgammon. People out painting their houses, footpaths and even the trees in spring cleaning mode in preparation for Easter! My negativity was completely unfounded and had I returned to Ireland as based on my initial impressions, I would have missed out on this vast change and my experience so far in Moldova, with more yet to come.
The city centre although not full of historical momuments or must see attractions, provides entertaining daily experiences, from the trolley-buses to the twenty four hour flower shops. I particularly enjoy going to the markets in each district of the city, especially the largest central market. One can buy almost anything here, on my first trip I was nearly knocked over on more than one occasion by people rushing to get the stock to their stall, whilst I pottered around aimlessly taking in all the sights. The stalls in the market provide for every need, with clothes, beauty products, food, music, electronic goods to be found. One can take in the hustle and bustle, the twittering of congregated birds in the food hall, people chattering about their daily banter, loud Moldovan music and of course the bartering that is common place in any market. However it is quite noticeable that service with a smile is not a concept that has reached Moldova yet. One also cannot mention Chisinau without speaking of the parks, where people tend to pass their time on the weekends, especially in the warm spring. One shall see wedding parties out laying flowers at the monument of the national hero Stefan Cel Mare, and taking photographs in amongst the trees. Young people parade showing off their impecably clean outfits, stopping to talk and gossip. With the emergence of spring this is especially true and provides pleasant space to spend the day lazing, reading, or people watching.
When I first got to Moldova I was placed in an apartment with a Moldovan family, this taught me a lot of Moldovan cuisine, the various uses of cabbage (which I still hate), the borş, placinte and various stews that form part of the cullinary culture. Although initially strange I started to enjoy the food, and appreciate the style as adapted from different mesh of nationalities found here. It also taught me about their familial culture and the importance of family to the Moldovan people and the place of the kitchen as the heart of the family home. I also noticed the importance of shoes in Moldova, people take great care of their immaculate shoes, cleaning them once they arrive at home, when they're going out and sometimes even on the street. The people look at each others shoes as if they reflect ones status, or personality. So, my dirty shoes did not attract admiring glances, and I even found the father of the family I lived with cleaning my less than perfect shoes, so I would not disgrace myself in public society.
I also was confronted with the completely novel situation of living with people whom I could not communicate with, a major incentive to start learning the language. I was lucky to have an interpreter in the form of my German flatmate who had already gained a good grasp of the Moldovan language. My room was large, and the flat provided everything that I needed. However, I decided that I wanted to live closer to the city centre, which was more convienent for travel to my work, and have been placed with two other volunteers in an apartment. There is even a soviet museum in the hall, complete with soviet fridge, radio and pictures. It is a living reminder of the previous times that Moldova has endured, and a perfect setting for my time spent here.
Whilst here in Moldova I hope to learn of the Molovan language, essentially romanian, however with slavic influence. Celebration of National Language Day pertains to assert the recognition of Moldovan as a separate language and not simply a dialect of Romanian. The population here in Chisinau speak both Russian and Moldovan, however I was advised that Moldovan would be most appropriate to my host project. When I arrived I undertook a week of intensive lessons in order to equip me with the basics needed to get myself by from day to day, especially in my situation living with a Moldovan family. I now have class once a week and getting acquainted with the basics, being here for two months I feel I still have a lot to learn. Moldovan is a latin language, and uses the latin alphabet and therefore is similar to romantic languages like Spanish and Italian. Russian is a slavic language that uses the cyrillic alphabet. So volunteering here gives the opportunity to learn either or both languages, as both are used widely. One can even hear a conversation conducted in both languages where each speaker converses in the language most comfortable to them, not only on the streets but on television and radio also.
My project is with Promo-Lex, a national NGO whose main aims are the promotion of democracy, human rights and the strengthening of civil society. I chose this project as I hope to work in human rights in the future and the similarities of Moldova as a post-conflict society with a population with dual ethno-centric population, as in Northern Ireland. The organisation is involved in many different activities, from cases in the European Court of Human Rights, current monitoring of the elections, production of reports, and the training of NGOs and youth from the Transnistrian region. My role involves editing of the website and the organisation's bulletin and I have also been establishing links between Promo-Lex and other European NGOs with similar aims. My main current project is the development of a human rights summer school, aimed at 18 - 25 year olds from the Transnistrian region. For this project I have been developing a novel simulation game to be used in the practical education of human rights, and also a theoretical course to provide the participants with the knowledge necessary to engage in such practical activites. I drafted the project proposal to be submitted to be for funding. My work is interesting and varied, and has a great element of independence where I am given free reign to think of new projects and ideas inkeeping with the organisation's aims. It has been an interesting time to be working in this field in Moldova at the moment with the occurrence of the elections, and the protests and political activity that have occurred in the aftermath.
My organisation work with people from the Transnistrian region. The political situation here is unusual but is one of the reasons that attracted me to Moldova. The existence of a self declared autonomous region within another country with all the characteristics of a state including currency, police force, parliament etc. was a curious matter to me. The situation is complicated further as some of the land on the east bank of the river is still under the control of the Republic of Moldova and one must take a boat to cross the river to this side to avoid the Transnistrian controlled borders. Even in winter when the river is frozen, the police drive over the river in their cars although not always quite successfully. I also got to see the remains of the Transnistrian war, with the presence of russian tanks still visible in the region. There are still russian peace keeping forces in the area and russian is the main language used in the region. I have had the opportunity to visit the region once, and although we had a small wait at the border where the unofficial army eyed up my passport I experienced no trouble in passing the border having been wary of previous tales of corruption that I had heard from guidebooks. The region is, as one can imagine very similar to Moldova with the exception that everyone speaks Russian and the streets are kept immaculately clean.
As part of my EVS I have been involved in two trainings, my on arrival training and also my mid-term training. Both were conducted in a manner that was informative, gave room for my own discussion and gave me a chance to experience more of Moldovan culture. Both trainings were conducted in hotels outside of the city. My first training occurred in January during my first week in Moldova, in a summer camp. We were divided into two groups, those who had just arrived and those who were on their mid-term evaluation. This allowed us to discuss more easily our current feelings and experiences of EVS so far. The training involved games, discussions and presentations, and this allowed me to meet all the other volunteers at once. In the evenings we were given the opportunity to use the swimming pool and sauna of the hotel, which in the cold winter was very apt and kept us relaxed for the next days discussion.
My mid-term training was not as formal as there were a smaller amount of people involved, which provided for a more intimate setting. We stayed also in a pensiune outside of Chisinau, on the banks of the river Nistru. This training give me a taste of rural Moldova, even sleeping in a traditional Moldovan bed which a family would have shared in past times, the fire oven underneath the bed provided for a very cosy stay. We had honey and wine tasting both traditions which are very strong in Moldovan culture. During the honey tasting we got to see where the honey is made and the different sorts that each period in the year is produced. The wine tasting was conducted in the cellar where the wine as made by Moldovan families is kept, wine in Moldova is unique to that of the European wine, especially the home made wine. The village was atypical of Moldova, with no sounds of cars only that of dogs, geese, pigs and allowed us an insight into life in the villages. We attended an egg painting workshop also and were taught the methods to painting eggs for upcoming easter, and got to see the work of local children in this art, the attention to detail as shown by these eggs was impressive.

My time here initially was not easy, as I had found the weather difficult, and navigation around the city as I had a tendency to get lost. As with anything this gets easier and more enjoyable with experience of a country, and I am starting to appreciate Moldova as a great country with much potential. My host organisation has provided me with much support and help in and between trainings, my project has also been very informative and beneficial for me through acquirement of new skills and knowledge. Although my stay with the family was brief, it gave me a chance to challenge my own cultural norms and relativism which I believe is important in truly learning and embracing a new culture. I am half way through my EVS now and the time is going so very quickly, I have major plans to utitlise my time here by taking the opportunity to travel to neighbouring countries both the Ukraine and Romania, and also to enjoy my time in Chisinau to the full. I will be sad to leave this green sunny city behind!
 Oonagh Sinead O'Connor, Moldova (2009)

Location Map