Winter Season In Tbilisi
My name is John McTigue a European Volunteer Service (EVS) volunteer with the Georgian NGO Charity Humanitarian Centre 'Abkhazeti' (CHCA). I've been in Tbilisi since October 2of last year with the help of VSI Ireland. The value of the opportunity that EVS has afforded me personally and professionally is immense. EVS is not well known in Ireland which is a pity because it gives young people a chance to travel abroad, experience new cultures and people, gain professional and personal experience and should be at least considered by anyone unsure of what to do next.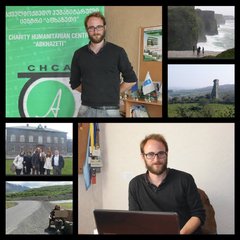 The salient feature of the run-in to December 25 in Tbilisi, Georgia was the absence of Christmas. A relief in most respects. There wasn't the ratcheting up of inner tension as you worry about deciding on gifts or worrying about whether those gifts that seemed so adequate in earlier in the month still measure up in the twenties. Nor was there the psychological pummelling from advertising. However without these things there is no anticipation and therefore the day arrives and flies by almost like any other day. In that respect it is Christmas everyday here. Nevertheless a fine event was organised by some Peace Corps volunteers who together Airbnbed a fine apartment in the swanky end of the old town, to which I was invited and to which was brought food, dessert and drink. A thoroughly American Christmas ensued including guessing games, card games and the National Lampoons Christmas Special.
Christmas Day having passed with observation only from the expats and the small non-Orthodox Christian community native to Georgia (witnessed by myself at the my first Christmas midnight Mass in many years) it was soon time for New Year's Eve which, certainly in terms of decibels, seems to be the most celebrated event of the year.
Fireworks are widely available here with injuries a common occurrence. Indeed children will often leave bangers alongside busy pedestrian areas and watch the results from a discrete distance. Around 7pm on New Year's Eve I noticed what had once been a sporadic noise become chronic as it seemed all Tbilisi was slowly disposing of their firework hoards. After half an hour the spasmodic jerks in response to the cacophony declined as it retreated into background noise. The city was the busiest I had seen it. Almost every EVS volunteer from the region (I personally hosted five) came to Tbilisi and always these fireworks. There were no official fireworks, they weren't needed. As midnight approached I asked the staff of the hipster bar located on the third floor of the Georgian (era not country) style house if they had a countdown, nope. What there was though was the rising crescendo of fireworks either side of midnight which marked the passing of 2014.
The actual day for Georgian Orthodox Christmas is January 7th. This is not related to the 12 Days of Christmas, rather, it is for the same reason that the October Revolution in 1917 actually happened in November; the Julian calendar. So Christmas day in Georgia is on December 25th, in the Julian calendar, which is January 7th in the Gregorian calendar. The same goes for New Year or 'Old New Year' which in Georgia falls on January 13th in the Gregorian calendar. These holidays (the second of which I wasn't even aware of till the city was filled with fireworks again) fall outside my idea of the holiday season so I scarcely participated though the celebration of the new New Year's Eve is the day of feasting, family and fun for Georgians.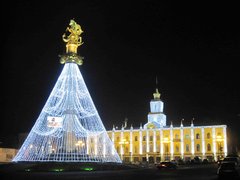 The 'winter' here was more like a good Irish summer. No rain, brilliant sunshine and temperatures in the high teens. Right now it feels like a June day in Ireland which messes with the body clock, vague notions of imminent Munster Finals and music festivals crowd unprompted into my mind.
Overall a similar atmosphere to that in Ireland except there's not anywhere near as much commercialism; just as much consumption but not so much advertising. A few weeks either side of January 1 disappeared never to be seen again leaving only a determination to live a bit healthier into at least February.
John Mc Tigue, Georgia (2015)

John Mc Tigue
Location Map