Notes of a short-term EVS in Albania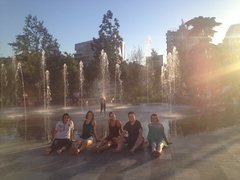 I spent a month in Albania during the summer. I was working in a day camp for disadvantaged children, mostly from the Roma community.
For the most part, the camp consisted of fun games and activities for the children, sport, art and crafts. It was very challenging at first, not speaking Albanian but I quickly got used to it. The children learned English phrases and we learned to communicate in spite of the language barrier.
I feel the poverty of Albania changed my perspective somewhat and made me aware of my privilege. Working with people from around the globe made me think that the divisions of nationality and ethnicity are arbitrary.
Deirdre, Albania (2017)