My EVS project in Finland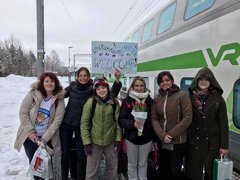 My name is Catriona Christina Dinnegan. I am from County Westmeath in Ireland.
My EVS journey began when I found the organisation Maailmanvaihto ICYE Finland, which I then became very  interested in, becoming a part of their voluntary opportunities. I joined my home organisation VSI Ireland, which is now my sending organisation. I really admire both organisations and I am very proud to be one of their EVS volunteers.
Why did I decide to join this project in Finland? I have always dreamed of spending time learning here, so, for me, this is like a dream come true. Also, next year I will become an author of Finnish Children's books.
The reason that I applied for the opportunity at Vanhamaki is because it is such a special place in the community. When I was selected to be a part of this project I was so happy that I was in tears because it really is a wonderful opportunity.
On this project there is a team of four volunteers and when we arrived nearly a month ago we were greeted with open arms and kindness by everybody in our community here at Vanhamaki so much so that it feels like our new home.  I am enjoying spending time with everybody here and, of course, the animals that live here. I have noticed my confidence growing more and more every day. I feel I am already becoming a better version of myself and I am becoming the person I have always aspired to be. My time here has already changed my life and is a chapter I will always be proud of.
I feel volunteering in a community helps both the volunteer  and the community in which they are volunteering in, which is why European Voluntary Service is so important to further learn and grow together. The EVS is such an amazing opportunity  for young people to learn new skills and  spend time learning in another country. Another important part of being involved the EVS projects is it helps build friendships and teaches us more understanding of each other across Europe.
Thanks to this wonderful opportunity I feel that I now have more of an understanding of my  European citizenship and, of course, Finland will always have a special place in my heart.
Catriona Dinnegan, Finland (2017)