My EVS project in Belarus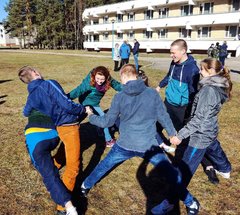 My project is working with two types of closed institutions in Belarus, for young people in conflict with the law and for young people with disabilities. I've only been in Belarus for seven weeks but it feels like so much longer. Not in the sense that time is dragging, quite the opposite. We've been so busy and done so many things that it's hard to believe we've managed to fit it all into such a short space of time. Over these few weeks I have visited some of these institutions, I've been to a youth camp, educational seminars for people with disabilities, acting workshops and much more. The organisation that I'm working with has many projects running at once but there have been a few that have stood out to me and I'm really interested to see how they develop and to learn more about them.
The acting workshop I mentioned above is a project that will run till the end of the year. The participants are working with professional actors and will meet once a month and prepare for a performance that will take place in Minsk in December. This group has young people from both the conflict and disability institutions. From this aspect alone I was eager to see how the two groups would interact. Even after just 2 days together the group dynamics shifted so much. The teens who were too cool for school from the conflict institutions were interacting with and helping those with disabilities. Aside from the acting skills, I believe that over these few months they will learn valuable skills such as tolerance, inclusion, respect. They will have their eyes opened to challenges that face others and I really feel this will stand to them in the future, they will become more aware and maybe more respectful of others and their communities. You see these teenagers in the conflict institutions aren't hardened criminals, they are youngsters who didn't live in a supportive environment, who were influenced by others. Another project is the "Contact Person" where volunteers are paired with teenagers from the conflict institutions and they write letters to each other. The organisation also organises trips to the institutions so they can meet. These volunteers are all ages and from all backgrounds. What this project does is put the teenagers in contact with a person who will hopefully have a positive influence on them. They form a trusting relationship and stay in contact long after they've left the institutions.
I feel like we haven't gotten to make a huge impact just yet as our language skills are limited and we're still learning the ropes on each of the projects but I hope as we move forward and as we get a better handle of the language we can have a more meaningful experience. I'm thoroughly enjoying it thus far and am looking forward to what the next 10.5 months have in store for me.
Ruth Byrne, Belarus (2017)

Ruth Byrne