Learning Centre for Roma Minorities in Kosovo
I got the chance to do EVS in Kosovo from September 2011 to June 2012. When I applied, I just about knew where Kosovo was but I'd no idea at all what awaited me there. I'd very little time to prepare or to learn about the country beforehand as I was accepted to fill a last minute vacancy with VSI (Voluntary Service International) an Irish sending organisation. The weeks I did have were busy saying goodbye to friends and family and packing up. VSI were wonderful during these busy few weeks, helping me organise my insurance for my trip and with any queries I had, and they were always at the end of an email during my months abroad.
I arrived to 30 degree September heat that felt sweltering after the wet Irish Summer back home. I was greeted by Muhamet, director of Balkan Sunflowers Kosovo (BSF) where I'd be volunteering and spent the first night in his house. I met the other EVS volunteers, from Poland, Finland, Germany and England, who'd be stationed at various centres around Kosovo run by BSF.
My first day in Kosovo was daunting and hectic and unlike anything I'd experienced before. After a breakfast in Muhamet's house of spicy sausage stew and a Kosovar dish made of baked flour with fried oil poured over it, with his Albanian-speaking family, the other volunteers and I, along with some BSF staff visited ancient castle ruins in Novo Brdo and had a traditional Kosovar lunch with a family out in the country side. We then caught a bus that evening to Sarajevo in Bosnia for EVS on-arrival training and a chance to meet EVS volunteers from all over Europe who'd arrived to volunteer in various parts of the Balkans. After a week's general training in beautiful Sarajevo we returned to more practical training with BSF in Kosovo. This training included how to react if you find yourself in a field you suspect might be mined, how to keep safe from packs of stray dogs and avoiding neocolonialism in our work. After a few days of this training and suitably petrified we were assigned to one of the four BSF Learning Centres and delivered to our host families where we'd live for the next 3 months. My host family was a wonderful, welcoming Ashkali family and Mehmet the father of the family worked in the centre where I volunteered. I lived there and shared a room with a quiet but lovely Finnish volunteer who also worked at my centre. The family had four sons with whom we did homework, watched dodgy Albanian pop music on tv and played games. The mother of the family did not speak any English (in fact no one in the family had more than a word or two of English) but it didn't stop her miming and attempting to converse with us as she asked after our families, work and appetites.
Ruth with her students in Kosovo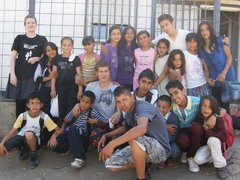 I volunteered in the Learning Centre in Fushe Kosove/ Kosovo Polje. The BSF Learning Centre Network works to help children and young people from the Roma minorities (including Ashkali and Egyptians) in Kosovo to enroll in, attend, and
succeed in school. It does this through Pre-School, Language Clubs, Homework Club, and Women's Literacy classes. As an international volunteer my role was to bring positivity, new energy and ideas and enthusiasm to the centre. The biggest challenge early on was the language. Funnily enough I hadn't given too much thought to the fact I was setting of to live and work in a country where I didn't speak a word of the language. Unfortunately for me, Albanian bears no resemblance to French and Spanish which I'd previously studied. But if ever there was a way to learn a difficult language quickly, volunteering in a Homeowrk Club is it! By the end of the first day I knew the numbers to twenty, and by the end of the first week I could do the times tables in Albanian. It wasn't all plain sailing. It's a huge challenge to be surrounded by colleagues and children, however lovely, and feel entirely exluded because you literally cannot understand a word of what's being said around you. However it's a wonderful incentive to work hard to learn the language and is also probably quite a healthy thing for a native English speaker to experience as we're usually able to make our way in English wherever we travel. I found a fantastic language teacher and the twice-weekly classes became one of the highlights in my week. There are so many things I miss having finished my volunteering in Kosovo, and perhaps surprisingly after my struggles, I definitely miss speaking Albanian.
Read the full report here on PDF
Ruth Barrett, Kosovo (2012)

Location Map