La 'Ferme des Enfants', France
My EVS experience at 28 has been extremely rewarding and sometimes I wonder what stopped me from doing it before! Was it the thought that I was too old? Perhaps the fear of stepping out of my comfort zone? When I started my search amongst a discouraging endless list of projects in France I saw the project "La Ferme des Enfants", an alternative school in an eco-village where they practice permaculture and bio-construction. This was just the kind of project I had been dreaming of! I applied. However, since I didn't receive an answer I went on to apply to other projects. Despite the many refusals I didn't lose hope and kept trying and calling. Most projects had already chosen their volunteers. Three days before the deadline I got an answer from my first application. I couldn't believe it! Off I went to sunny southern France for 6 months.
EVS is an experience I'd recommend to any young person. Professionally, it's giving me the chance of fully experimenting in the field of education before deciding if it's the kind of job I want to go for.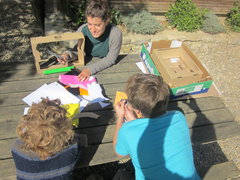 Gina teaching some of the children at La Ferme des Enfants
How else could I, with my Media and Cinema degree, have been accepted to work full time with children in a school? Participating in teacher meetings, spending time with kids, developing and testing teaching materials... Needless to say this will surely be a great asset for my CV.
But EVS is much more than a professional experience and everyone makes sure that I can make the most of it at all levels. EVS is a truly well-organized program where you have the freedom to enjoy things.
My sending organization VSI has been extremely attentive, helpful and efficient, making sure all my needs were covered and I that felt supported and comfortable in my project. My host organization has been equally kind.
The EVS programme provides two external trainings during your stay. These gave me useful tools to help make the most of my EVS as well as provide me with a chance to meet other volunteers from all over Europe and share my fears, joys and frustrations. And they were fun!
Finally, EVS has been an intense personal development course. I can't say this experience is for the faint hearted as it takes courage and openness, but what you gain from it at a personal level is priceless. Prioritizing goals, time managing, the relationships with others, adapting to a new environment, dealing with potential language and isolation problems, developing personal resources, asserting your needs and opinions, etc. In such an intense experience I have been obliged to grow as a person.
So: don't think about it anymore! Just do it before you are 30!
Gina Ortega, France (January to July, 2014)

Gina Ortega
Location Map