Kids 4 Peace in Jerusalem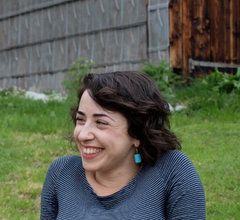 Maggie Ryan was an EVS volunteer through VSI with Kids 4 Peace in Jerusalem during 2014. This is an extract from the K4P blog on her arrival in Jerusalem.
Mary Margaret Ryan known as Maggie is 25 years old and from Dublin, Ireland. Having achieved an honours B.A in English, Media and Cultural Studies she coordinated the Youth Programme in Pavee Point, Traveller and Roma Organisation for two years, before working as a freelance trainer for the NYCI (National Youth Council of Ireland)
Travellers are an indigenous minority who, have been part of Irish society for centuries. Travellers shared history, cultural values, language, customs and traditions make them a self-defined group, and one which is recognisable and distinct. Their culture and way of life, of which nomadism is an important factor, distinguishes them from the majority population. In her position she had to develop a number of innovative strategies and meet daily challenges to completing the work, a number of issues she encountered and overcome resonated with Naomi, Leadership Coordinator in K4P Jerusalem.
In October 2012 Naomi and Maggie met at an Intercultural training in Switzerland where they learned about opportunities afforded through the EVS (European Voluntary Service) program. Maggie had already planned a visit to the West Bank for ten days, and so in March 2013 she extended her trip to meet Rebecca, co-director of K4P Jerusalem and to discuss the possibility of interning.
K4P Jerusalem then began the process of application through the EVS program with Voluntary Service International (VSI) and received confirmation of a successful application in December 2013.
"I have an invested interest in developing my own skill set in relation to global youth work. During my time as a professional youth worker I encountered many people on EVS and found that they gained so much from the total cultural immersion of the programme as well as the learning acquired directly from the organisation. EVS offers me the opportunity to immerse myself in a culture and a way of life that can only aid and enhance my understanding and appreciation for the development of global networks and supports that I see as key to my personal and professional development.
I am interested in pursuing an EVS with K4P due to the unique geo-political situation in the region of Jerusalem. The organisational approach to the needs of their community is challenging and offers great hope for the region. The area of conflict resolution and issues of restorative justice appeal to me and this particular placement will afford me the opportunity to develop my skills in relation to them.
My professional experience will support me to complete tasks set by the organisation and I will be bringing knowledge of the Irish political, cultural and youth work sector to them. My B.A focused heavily on theories of cultural identity and the politics of geographical mapping on one's identity. Having completed 2 years in Pavee Point Traveller and Roma Organisationas the Youth Work Coordinator I will be bringing a wealth of knowledge and experience on working with marginalised youth as well as the skills needed to communicate what it is that you do and how you do it, to both independent and state funders as well as the community at large. As an experienced trainer with NYCI (National Youth Council of Ireland) I will bring fresh ideas on how to engage and work with educators and youth alike. I have a keen interest in languages, and see this EVS as an opportunity to develop my knowledge of both Hebrew and Arabic through immersion in the lived environment."  March 2014
Maggie Ryan, Israel (2014)

Location Map