EVS in Ireland 2014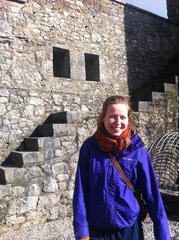 At first I couldn't see myself figuring out how the water taps in Ireland work (why separate taps for cold and hot water?) Or how I'm ever going to survive through a phone conversation with a person talking with an incomprehensive Irish accent. Or if I'll be able navigate with those mysterious directions I got from Irish people such as "it's just down below" or "go up above and you'll see it".
I must say it's amazing what all the things you can find out and learn by spending one year in Dublin as an EVS volunteer. I worked at VSI's office as a placement officer for 12 months between Feb 2014 and Jan 2015.
My main tasks were to support the volunteers coming to Ireland and going from Ireland to abroad from the beginning to the end of their volunteer experience. This included the preparation, application process, visiting the Irish projects and evaluation of the projects. On top of that, I got the chance to participate in SCI's international Placement Officer Training in Serbia in March and Exchange Evaluation Meeting in Turkey in October.
Besides learning how to manage with the water taps, Irish accent and directions, I also learned a lot about peace education, volunteer management, international volunteer projects and how to support group dynamics.  When I needed to pack my stuff and head back home, I couldn't believe the amount of souvenirs, memories, skills and knowledge I got during just one year. The biggest thanks go to VSI staff and all the volunteers for making my year an experience I got more than I never could have expected to get.
Jenni Kemppainen, from Finland to Dublin (Feb 2014 – Jan 2015)

Location Map