Campaign for Universal Nuclear Disarmament in Belgium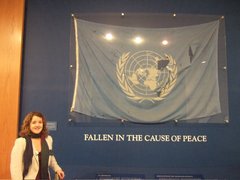 For me, in my final year at UCD, it was a spur of the moment decision to follow a friend to the VSI Ireland talk on volunteering opportunities in the Ilac Library in Dublin. I had a vague idea of wanting to travel for a few months and doing something worthwhile that would help me decide what I wanted to do as a career.
Once I heard about the European Voluntary Service, a whole other hos of possibilities opened up straight away. I never realised I could have the chance to travel, live and volunteer in another European country all the while funded by this scheme of the European Commission. 
Within a matter if months, I had applied and was accepted to be a member of the Campaign and Communications team for one year at the International Secretariat of the Mayors for Peace 2020 Vision Campaign in Ypres, Belgium.
The Mayors for Peace 2020 Vision Campaign is an international campaign for universal nuclear disarmament by the year 2020. It works through a network of nearly 3,000 mayors all over world that sign up to support the Campaign and its goals.
The work I was doing with Mayors for Peace was a hugely important part of the experience for me. As we were such a small team, I was given great responsibility and space to learn and develop. A lot of my work was in preparing reports, campaign materials, website content and correspondence but I also personally launched the first 2020 Vision Campaign drive in the Republic of Ireland. With Mayors for Peace, I went to numerous events and conferences at European Parliament in Brussels as well as to the UN Headquarters in New York last May. I was given amazing opportunities there that I know will stand to me in the future.
Other parts of my EVS experience were just as important. I was working with an international team. Thanks to that, I managed to learn French without ever having intended to and travelled many times to France, staying with friends and seeing a different side to the country than I ever had before. I made close friends that are scattered across Spain, Portugal, Belgium, the Netherlands and France that I'll always have. 
As well as that, living with Belgian people in a home-stay and travelling to friends I met through work and the EVS network, I feel I really got a taste for Belgian culture and people. It was a place I knew nearly nothing about before my EVS, but now it's a place I'm doing everything in my power to get back to.
Jennie Corbett, Belgium (2008-2009)

Location Map