Animal rescue centre in Belgium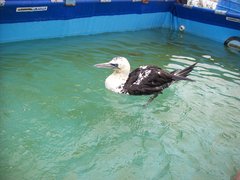 I've been a volunteer in Belgium for the past nine months and it's going by very fast.
I have to admit I was a bit dubious at first about volunteering for a year and the decision to apply was made because I knew it would help with my career. The work I do here has turned out to be as rewarding as I was hoping for and I will be very sorry to leave at the end of the year.
I volunteer in a wildlife rescue hospital in Oostende. The hospital takes in injured and orphaned wild animals, mostly birds. My job is to help take care of them. Each day consists of lots of feeding and cleaning and helping with the medications. In the summer there are mostly young animals and in the winter-oiled birds, then autumn and spring bring in the accident and poison victims. I really love being able to see the progression in the animals from being sick to being released. Unfortunately animals dying and being euthanised is a daily part of the job - some have injuries that can't be fixed and some are on their last legs when they are brought to us.
Because it's a charity the hospital can only do so much - there are simply too many animals, not enough staff and not enough money. Very many of the problems caused to the animals are because of people and it's very sad to see. We have many birds coming in with injuries from fishing equipment, car accident victims, deliberate poisoning - the list goes on. I realise acutely how many problems wild animals have in just trying to survive. I have the impression that people tend only to think of wildlife as being in Africa or countries other than their own and do not realise how rich the wildlife surrounding them actually is.
Needless to say, it's not just the work I'm enjoying. Living in Belgium has been quite a cultural experience - it's amazing how many small differences there are between here and Ireland. There are many wonderful places to visit like Bruges, Gent and Antwerp and there are also nature reserves and beauty spots along the coast. The great thing about Belgium is that it's such a small country that it's easy to travel about. There's a good deal with the trains where you can get a 10 journey ticket for anywhere in Belgium for a cheap price so it's a great chance to see things. I've also been trying very hard to learn the language. Oostende is Dutch speaking and if you want to learn it you have to be pretty determined as even when you speak Dutch most people reply in English which can be very frustrating at times. I have 6 hours of lessons each week and these really help, especially with working up the confidence to try the language.
I found the biggest way of meeting people here was through the on arrival training. There I met all the other international volunteers who had started at roughly the same time as me and I've kept in contact with them throughout the year. Maybe it's something about travelling but I've found that all the EVS people I've met have been really open-minded, fun and easy to get along with even with such a mix of different cultures.
I can definitely promote Belgium and my project as a place to volunteer - it's been a pretty valuable year so far which isn't over yet and I'm sure to enjoy the last few months.
Melina Diver, Belgium (2010)

Location Map