Accessibilty and working at Grenzenlos NGO in Austria
The first time I visited the office I was a bit shocked: in front of the door there was a sign "Grenzenlos" with three stairs welcoming me inside. My first impressions weren´t the best possible but I quickly learned how barriers and challenged can be solved here in an innovative and flexible way.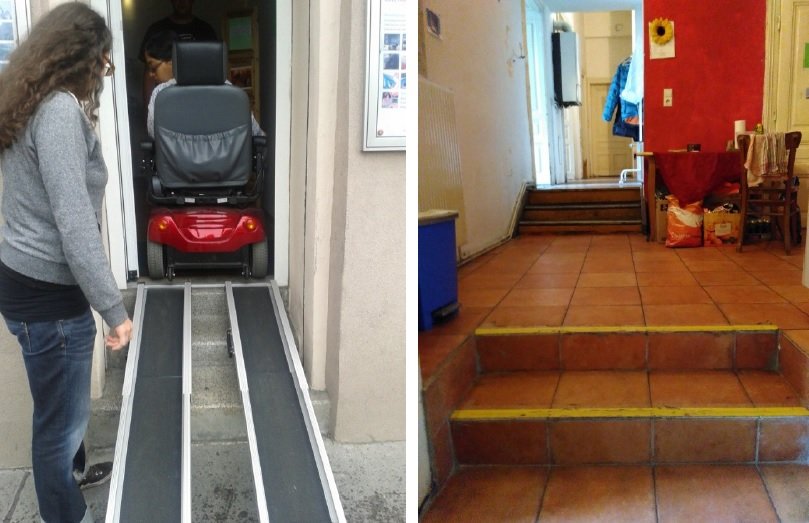 First of all, there is a removable ramp in the office that can be moved on the stairs to make entrance easier for a wheelchair user. The main entrance is 73cm wide. There are two more sets of stairs before the actual working/office area (from the hallway to kitchen and from kitchen to the office rooms) but the ramp can be used there as well.  Before the second set of stairs you need to turn 90° to the left. With the ramp the space can get tight, but things like boxes etc. can always be removed from the way if needed. Everyone at Grenzenlos is very helpful and willing to help with the stairs. I personally prefer being carried/slid the stairs up and down instead of using a fairly steep ramp but for example with electric wheelchair carrying is usually not an option.

The kitchen is decent size but the countertops are on a standard height so it´s not so accessible. Also a lot of dishes are in upper shelves so you  can not really grab them by yourself. These things are taken care of  by pure caring and considerateness. People at Grenzenlos will always bring from kitchen anything you need when asked and lunch is always in the conference room where everything is brought and prepared for (often a shared) lunch. In fact, most of the time asking is not even needed. They ask if you need anything before you even realize it yourself, which I find really nice.

From the actual office there is an accessible way to the toilet. The toilet door is 70cm wide but no wheelchair fits inside. The space between the toilet seat to the opposite wall is 59cm so it´s a really small space for two people (in case you would need another person to get you on the seat). The toilet seat is right next tot he wall so there is no space for an assistant to lift from behind of the toilet seat. Also there are no handles on the sides oft he seat or sink in the toilet, the sink is outside oft he toilet right next tot he door. There is open space right under the sink and the sink is on a standard height, possibly a bit lower. If you need water while being in the toilet, I would recommend the same solution I ended up with: A bucket or a big bowl in the toilet that can be filled with water and also a smaller can just for your use. This has worked for me well enough, I just need to remember to fill the bowl before getting in..! So to get to the toilet you would either need to be able to take some small steps from your wheelchair to the toilet itself (you can always ask someone to pull away the wheelchair if that´s a challenge for you) or you should have some not claustrofobic person to help you. :P

The office area is spaceous, at least around the first desk that usually is for the volunteers anyway. The conference room is big and accessible. The library is quite tight but it´s possible to get in at least with a manual wheelchair. The supply room is also possible, even for electrical wheelchair but there is not much space to turn around in neither rooms. So backing out is the way to leave those rooms. The supply room is full of office stuff from the floor tot he ceiling so a lot of things are either too low or too high. You can always ask anyone in Grenzenlos for help if you need something from the supply room. (They know where everything is better anyway!)

All in all, the office doesn´t fit the accessibility standards but there are many ways to go around the challenges or barriers. Just remember to keep an open mind and enjoy your stay here!
Working in the office

The majority of my work has been typical office work, dealing with Excell charts and Word documents. A lot of preparation needs to be done before all the trainings and camps take place, and that´s where I´ve been helping with. It´s fine if you´re not familiar with Excell or Word but it helps a lot to at least know the basics. Because the programs are in German, it´s good to remember more or less where all the settings usually are. If you´re like me who absolutely hates Excell, then you just have to take a deep breath, be ready to ask and learn! It´ll get easier eventually.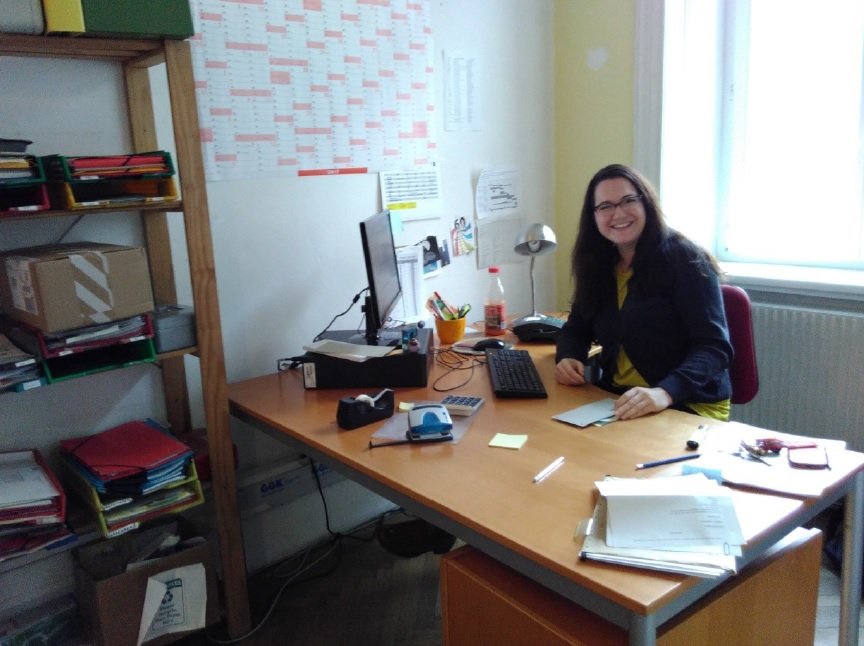 Antoher thing that I´ve been doing  here, is taking part in the camps and trainings. I got a great opportunity to be part if the trainers´team in one training that took place outside Vienna. I did a lot of Excell work at the training itself too, but I also helped in preparing some materials for the sessions, doing the reflection meetings with the participants, "hosting" the intercultural evening with my co-trainers and being responsible of a few activities during the training (i.e. Vienna tour and some ice-breaker games). And the free time in the evenings, well, let´s say I really took it as free time with the others..! I´ve met some absolutely amazing people during these camps, learned so much and grown both as a person and as a professional. I would recommend participating in the whole process of making the trainings happen for everyone.

I also help often with some practical stuff, sometimes smaller sometimes bigger. For example  I´ve gone tot he trainings to help with coffee breaks, picked up maps from another side of the city, been responsible of the dinner in the city fort he trainings, prepared welcome folders for the participants etc. So I also get to go around the city in order to do the things I´m asked to!

I hope this short summary of my Grenzenlos experience helped you to get a clearer picture of what might be waiting for you!
All the best,
Eeva, Austria (2017)

Location Map