Anti-racism through football and other sport in the UK
Start date: 1st March 2019
Duration: 12 months
Programme: European Voluntary Service (EVS)/ European Solidarity Corps (ESC) (age group: 18-30)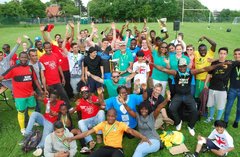 Plymouth Hope is a UK charity promoting racial harmony, social inclusion and community participation through football and other sport. The charity also assists its overseas branches and partners using sport as a tool for poverty relief in education and health.
We are looking for a young person from Ireland to join 5 others from different countries to volunteer starting on the 1st March 2019 for 12 months (until February 2020).
About the organization
Plymouth Hope was started in 2008 as a football club aimed at providing football activities to refugees and the indigenous population living in the poorest areas of the city. Using football as a tool for community and social cohesion was its main focus and continued to be until 2013, when the organisation expanded to other sport-based community projects and youth work. From there our renewed vision became to continue to do what we were good at and also focus on supporting young people as well as engaging in work overseas using the same principles. The organisation has been widely recognised for its unique work of building bridges between communities and changing race relations in Devon and Cornwall in the sporting and voluntary sector. Plymouth Hope has gone from a small community project to one of the most reputable organisations in the city.
Volunteer's role
The volunteers will work both in the office and on outreach work. Plymouth Hope will liaise with volunteers to help them organise their week in advance. Some of the activities take place over the week-end and volunteers will be given time off in lieu. The volunteers will support the project staff. Some of the tasks may involve:
- assisting in planning and delivering training for the under-14s and -18s teams at schools or community centres
- peer support for individuals or groups
- helping to organise the Football Festival and Family Fun Day
- supporting development projects for local young refugees.
Requirements
Plymouth Hope is looking for young people of all genders with strong interpersonal and communication skills, a good understanding and empathy towards vulnerable groups, including refugees, asylum-seekers and people from disadvantaged areas.
The volunteer should be committed to equal opportunities and anti-discriminatory practices and the promotion of diversity. The ideal applicant should have an avid interest in football and sport in general. We welcome some experience in leading groups or any experience of coaching football or sport to any groups/ages/genders but this is not essential and we will provide full training for this.
This project is funded by the EU and standard EVS rules apply. You will receive free accommodation (either in host families or in rented accommodation), food, insurance and monthly 'pocket money'. The only thing you might have to pay is a very small part of your travel costs. More info on EVS here.
Application
If you would like to apply for this project please complete the VSI EVS Application Form, highlighting your motivation to volunteer on this project. Please state 'Anti-racism through football EVS' as the project you are applying for and in the subject of the e-mail and send it to Mateja in VSI mateja@vsi.ie. Deadline for application: ASAP.
If you would like more info on this or any other EVS projects please contact Mateja in VSI mateja@vsi.ie
The European Voluntary Service (EVS)/ European Solidarity Corps (ESC) is an EU funded programme that gives young people (aged 18 to 30) the opportunity to volunteer in an organisation abroad. The funding covers travel expenses to and from the project as well as accommodation, food, a small personal allowance ("pocket money"), insurance, language training and local transport during the project.