Step Up! Community and youth project with refugees: Short term group EVS in Greece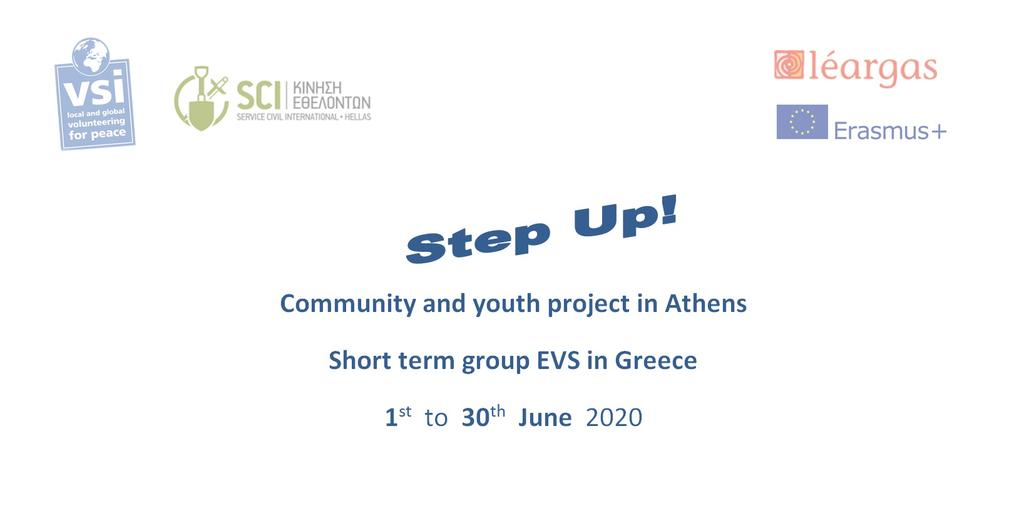 Sending and Coordinating organisation: Voluntary Service International (VSI Ireland)
Hosting organisation: Kinisi Ethelonton Service Civil International Hellas (SCI Hellas)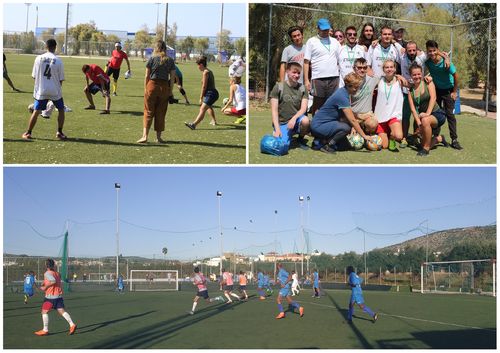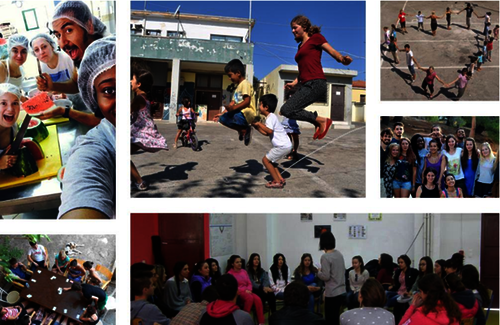 About the project
"Step Up!" is an EU-funded four-week group European Voluntary Service project, taking place in Athens, Greece from 01/06/2020 to the 30/06/2020. VSI are looking for a group of 10 young people (18 – 24)  to go to Greece to volunteer with refugees from different countries, to arrange and run activities with them, and help in the day-to-day life of the communities of refugees with support of SCI Hellas staff team and long term international volunteers.
The project activities will focus on the social and cultural inclusion and empowerment of the refugees.The volunteers won't simply to do activities for them, but with them, making them active in the decision making process. The main task will be working on and organising a football tournament. The project will also involve running educational and fun activities with regugee children. Project activities will be created together by the group, local volunteers and refugees. That is why the framework below is only indicative and can change and develop depending on the volunteers' and refugees' needs and desires.
Here is a link to a video of a similar group project ran in 2018: VIDEO
Practicalities
Project calendar:
1st June: Arrival in Athens
2nd to 5th June: Induction and training: orientation, introduction to the project, activities and the methods, training on working with children and refugees
6th to 28th June: Community and youth activities with the refugees in cooperation with refugee communities and organisations in Athens - organising a football tournament with refugees and running summercamp-like activities for refugee children
29th June: Evaluation of the project
30th June: Departure of the participants

Working days and hours:
5 days per week (usually Monday to Friday), 5-7 hours per day, depending on the activity. In case the volunteers will work during the weekend, they will get days off during the week.

Accommodation:
Shared rooms in the Scout hostel: https://www.youtube.com/watch?v=DgTMM0vkHPc

Food:
The group of volunteers will prepare their own breakfast in the hostel. Lunch and dinner will be provided by the host organisation (vegan food available). Some days volunteers will prepare their own lunch and dinner, supplies will be provided.

Costs:
The European Voluntary Service (EVS) is an EU funded programme that gives young people the opportunity to volunteer in an organisation abroad. The funding covers travel expenses to and from the project as well as accommodation, food, a small personal allowance ("pocket money"), insurance, and local transport during the project.
Applications:
If you are interested in this project and would like to apply, please complete our online application form by the 20th of January 2020 or contact Mateja in the VSI office mateja@vsi.ie if you have any questions or need more info.
About the sending and hosting organisation:
Voluntary Service International (VSI) is a peace and social justice organisation working primarily through volunteering. VSI is the Irish branch of Service Civil International (SCI). VSI is a registered charity in Ireland, we are funded by the Department of Children and Youth Affairs and by the European Union under the Erasmus+ programme. We work with young people and youth workers to: 
promote the social inclusion of young people
raise young people's awareness of their rights, peace and social justice, sustainable development, the environment and intercultural understanding
foster young people's active citizenship
promote young people's civic engagement
develop young people's skills and competencies and enhance their employability.
For more information: www.vsi.ie
Kinisi Ethelonton Service Civil International Hellas (SCI-Hellas) is a nongovernmental organisation based in Athens. It's the Greek branch of Service Civil International, an international voluntary movement that aims to promote peace, solidarity and intercultural understanding through organising international volunteer projects, campaigns and seminars. Through its actions, SCI tries to enhance the peaceful cooperation of people from different cultural and social backgrounds as well as to encourage the direct participation of citizens in the solution of social problems. It is a founder member of the Greek Antipoverty Network.
For more informations : http://www.sci.gr/eng/