EVS in disability centre in Catalonia (Moià)
Start date September 2019
Duration: 6 - 12 months
Programme: European Voluntary Service (EVS) (age group: 18-30)
Join a Spanish non-profit organization whose aim is to establish mutual relationships, where inclusion, participation and responsibility are goals for people with disabilities both in the organization and in society. Therefore, inclusion in society is essential to be open to the world that surrounds us and be part of the life of their city.
We are looking for a young person from Ireland to volunteer in this NGO starting in selected dates for 6 - 12 months.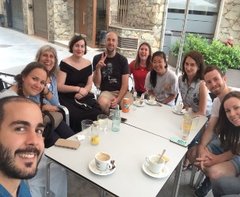 About the organization
FADEAM- Els Avets de Moia Foundation is a non-profit organization whose main mission is the attention and care of adult persons with intellectual disabilities. It is partially financed by the government of Catalonia. The attention is based on the relationship established with persons with disabilities to achieve an inclusive and home-like dimension. Our goal is to offer persons with intellectual disabilities a place to live and develop all their skills and autonomy and support them in their participation and inclusion into society. The organization is part of the International Federation of L'Arche Communities for people with intellectual disability; we are 150 communities around the world.
Introduction
Located in Moianès County, central Catalonia (about 50 km's North of Barcelona), the project is based in the dynamic town of Moia . There is a rich historical, natural and cultural heritage with a population of around 6000. FADEAM operates in the town centre to aid the integration and independence of those with disabilities. You can pick up public transport from Moia to Barcelona and other nearby cities by bus.
FADEAM- Els Avets de Moia Foundation have a wide team of professionals to aid the persons with especial needs and also volunteers. Volunteering is a very important part of the project; people with disabilities do not feel recognised and valued. The daily life and living together promote the growth of strong bonds which are an emotional support for the core members. The cultural exchange and "virtual traveling around the world" is also a benefit offered by the volunteers; the effort of the people with disabilities to teach our culture to the volunteers (food, feasts, football teams, language, daily life, ...) is also important. This exchange is always very rich in new, lovely, happy, fun and interesting experiences.
There is a team of 6 long term volunteers plus many different local volunteers.

Volunteer's role
The volunteers will be involved in various general tasks in the community as well as offering support in the residential home and occupational centre.
Please see the full info sheet for a detailed list of the volunteer's tasks.
Attention to the persons (as support to educators and professionals)

- Support to professional staff in charge of accompanying users in their daily activities (personal hygiene, services, activities,…) and in special moments (happy moments, deceases, losses and mourning times, illnesses,…)
- Support the monitoring of the PIR (individual programme) of each person in the different areas: personal hygiene, food habits, health, social life and relations, through observation and listening to each person. The volunteer will be invited to make proposals to update and improve the PIRs.
- Knowledge of the general project of the home and its application to daily life.
- Collaborate with the professional team with the pedagogical methods for each person (stated in the meeting with the psychologist)

Home dynamics (as support to educator and professionals)

- Helping with the quality of the co-existence and relations in the home: entertaining,
stimulation, acceptance of differences, conflict solving, and dialogue.
- Participate actively in the weekly coordination home meeting, sharing and enabling
communication and participation
- Collaborate in planning activities in and outside the home
- Promote feast and celebration periods: birthdays, folk feasts
- Collaborate with the organisation of the home so that everybody feels good. For ex. promoting alternatives for elders who cannot follow general activities.

Team work (as support to educator and professionals)

- Participate with all the home team (assistants, responsible, educators)
- Participate actively in all meetings proposed (home, with psychologist,etc.)
- Provide ideas, accept limits, ask for help, give support, use complementary skills,
- Collaborate in welcoming new team members and try to accept changes needed for it (tasks distribution)

Material matters (as support to educator and professionals)

- Within the global educational project of the centre, collaborate with the care of the house, equipment, garden,
- Take care of the economy of the house, helping buying the needed things according to the budget.
- Collaborate in cooking according to the security and hygiene rules and following individual diets when needed.
- Take care of the vehicles with an adequate driving and helping with the regular cleaning. These activities are not just a routine; this is a comprehensive daily life project where all activities are related to a relational and integral model of life

Community matters (as support to assistants and professionals)

- Collaborate in maintaining an attitude of respect and openness to know the characteristics of the Arche communities
- Participate in community activities such as feasts, fairs, celebrations, community
meetings
Any contribution of volunteers is welcomed and considered.
Timetable and activities schedules may be changed when needed by the centre, the volunteer or for a better adaptation to his/her profile.
Requirements
- Willing to know people with intellectual disabilities
- Willing to have a co-existence experience and community life
- Motivation to carry out a voluntary task, collaborating and giving as much as possible.
- Flexibility to adapt and work within a team.
- Open minded to be helpful when needed
- Positive and respectful attitude
- Willing to get involved in the organisation and its project
- Responsible attitude
- Basic good knowledge of Spanish language and interested in learning Catalan (the language spoken in our area, together with Spanish). Knowing the basics of the language helps to communicate with people with disabilities and facilitates the integration of the volunteer.
- It is preferable to have driving license and driving experience.
This project is funded by the EU and standard EVS rules apply. You will receive free accommodation (either in host families or in rented accommodation), food, insurance and monthly 'pocket money'. The only thing you might have to pay is a very small part of your travel costs. More info on EVS here.
Application
If you would like to apply for this project please complete the VSI EVS Application Form, highlighting your motivation to volunteer on this project. Please state 'Plymouth Hope EVS' as the project you are applying for and in the subject of the e-mail and send it to Mateja in VSI mateja@vsi.ie. Deadline for application: 16th November.
If you would like more info on this or any other EVS projects please contact Mateja in VSI mateja@vsi.ie
The European Voluntary Service (EVS) is an EU funded programme that gives young people (aged 18 to 30) the opportunity to volunteer in an organisation abroad. The funding covers travel expenses to and from the project as well as accommodation, food, a small personal allowance ("pocket money"), insurance, language training and local transport during the project.