Supporting youth volunteering in sports in Slovenia
European University Sports Association (EUSA) and EUSA Institute are inviting interested young people in Ireland to apply for the EVS project to support youth volunteering in sports, starting in February 2019 for 8 months.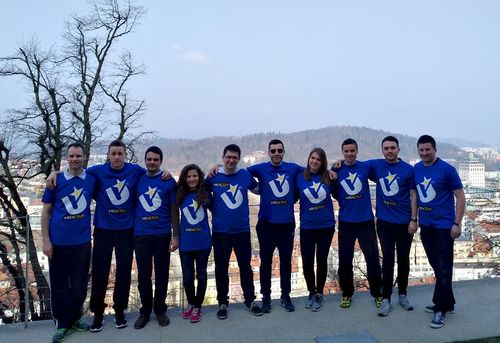 About the organisation
The main aim of EUSA Institute is to support development of university sport in Slovenia and Europe. It carries out professional, technical and organizational tasks aimed at providing education in sports at university level, partnering with European University Sports Association (EUSA) and other organisations.
Volunteer's role
Being a pan-European organisation, EUSA find it important and stimulating to host volunteers in our office in Ljubljana, enabling them and us to have a fresh and international view in our youth work and projects. During the project, a few very specific activities will be organised together with the EVS volunteers for engaging young people – educational events (Convention and Conference), sporting events (European Universities Championships and Games), promotional activities (media and communication), social responsibility programs (anti-doping, gender equality, prevention of violence), international cooperation (members, partners, events organisers, etc). Most of the work will be carried out from the office in Ljubljana, with some travel opportunities.

Accommodation, food and transport arrangements
A shared apartment in Ljubljana is offered. Each volunteer has their own room, and shared use of kitchen, bathroom and toilet. Grocery stores, bank, pharmacy, bars, fast food, sporting grounds and a few other facilities; with regular bus service nearby, 15mins from city center. Offices are located in the Slovenian capital Ljubljana where also other EUSA staff is working, with all the amenities that they need (own desk, laptop, phone). The working obligations of the volunteer encompass 35 hours per week, usually from Monday to Friday. Volunteers get basic monthly allowance for food and costs.

Requirements
Young people, especially university students aged 18-30, interested in sport or specifically in university sports, with some previous volunteering experiences, motivated and willing to work individually and in a team. We are looking for flexible & open minded people. Within the project, 2 volunteers will be selected. The volunteers will share an apartment (having their own room), so they have to be willing to live in mixed-gender environment. See https://www.eusa.eu/projects/european-solidarity-corps for more info.
Application
If you are interested in this project, please complete the online questionnaire and send your CV and motivation letter highlighting your motivation to take part in this project. Please indicate the name of the project you are applying for on the subject of the e-mail and send it to mateja@vsi.ie. Deadline for application: 20 January 2019.
The European Voluntary Service (EVS) is an EU funded programme that gives young people (aged 18 to 30) the opportunity to volunteer in an organisation abroad. The funding covers travel expenses to and from the project as well as accommodation, food, a small personal allowance ("pocket money"), insurance, language training and local transport during the project.