Work with refugees in Greece
Short term group EVS in Athens, Greece
SCI Hellas (Greek branch of VSI/SCI) and Greek forum of refugees are looking for an Irish volunteer to join the international group of volunteers on the EVS project starting on 1st of July till 31st August 2018!
This is a great opportunity to spend two months in an international surrounding, volunteering for peace and gaining experience of working with refugees.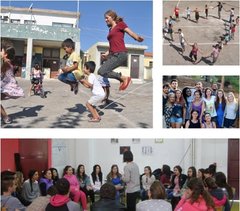 About the organisations
Kinisi Ethelonton Service Civil International Hellas (SCI-Hellas) is a non-governmental organisation based in Athens. It's the Greek branch of Service Civil International, an international voluntary movement that aims to promote peace, solidarity and intercultural understanding through organising international volunteer projects, campaigns and seminars.
Greek Forum of Refugees (GFR) is a network of refugees, asylum seekers, their legal entities and Greek citizens. It operates informally since the spring of 2010, and from 2012 as legal entity recognised by the Greek law.
Volunteer's role
The main aim of this project is to allow a social and cultural inclusion for the refugees, as well as empowering them. During the project, the refugees will not only simply participate in activities, but will be active in creating them and giving their input.
Volunteers will be working on four different fields or activities: creative activities, painting or pottery with children as well as handcrafts with adults. Outdoor activities, different sports and walks in the city (taking pictures or/and telling stories). Cultural workshops, which aim to share intercultural stories and raise awareness of cultural differences. Finally, the visits, which can be the special occasion to discover new places, such as municipalities, Parliament, or simply enjoying the free time together, like going to the beach or the mountains.
The volunteers may also support the daily work of the Refugee Communities offices – participate in the promotion of the project (writing articles, Facebook page, videos) together with the refugees.
Volunteers must be 18-30 years old.
Accommodation is in shared rooms in Athens. The coordinating organisation will provide food.
Application:
If you are interested in this project, please fill out VSI application form and send it to mateja@vsi.ie. Deadline for application is 24th of May 2018.
Costs
The European Voluntary Service (EVS) is an EU funded programme that gives young people (aged 18 to 30) the opportunity to volunteer in an organisation abroad. The funding covers travel expenses to and from the project as well as accommodation, food, a small personal allowance ("pocket money"), insurance, language training and local transport during the project.