Non-formal education oriented ESC project in Croatia
We're looking for two volunteers from Ireland to take part in a 2-month ESC project in Croatia, from 4th May to 1st July 2020. 
About the organisation
Syncro - Synergy Croatia is a non-governmental organisation working in the field of education, personal development, skills and support for young people. Syncro was established in 2010 with the aim of supporting the improvement of the quality of life and human resources development through powerful experiences in education and personal development.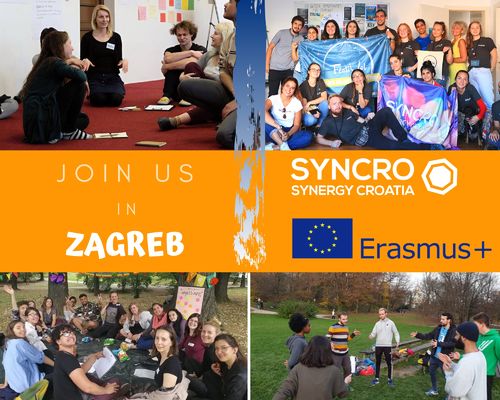 Syncro's mission is to encourage young people to reach their potential, create a learning space, support education and involvement of young people, provide opportunities for creativity and enjoyment in life and to empower people to take an active role in their lives. To achieve these goals, we need help from young people who are interested in investing their time, ideas and creativeness in making a positive change in another country. Since Syncro is implementing and participating in several projects, we would like to have volunteers that will engage in these activities and share the content to the community.
Volunteer's role
Main tasks would involve attending events (mostly with Syncro's other volunteers), taking photos, creating videos, making social media graphics, writing short texts, publishing content on social media and implementing ideas.
Requirements
Are you an open-minded and social person who would like to introduce others to the meaningful, creative, life-changing events and spread the idea of solidarity? Join our young and friendly team, as we are waiting for you in Zagreb!
Accommodation
Shared apartment in Zagreb.
Application
If you are interested in this project, please fill out the application form to take part in this project. 
Application deadline: 02/02/2020
Costs
The European Solidarity Corps (ESC) is an EU funded programme that gives young people (aged 18 to 30) the opportunity to volunteer in an organisation abroad. The funding covers travel expenses to and from the project as well as accommodation, food, a small personal allowance ("pocket money"), insurance, language training and local transport during the project.
Interested in applying or need more info?  Contact Mateja in VSI:   0873367275 mateja@vsi.ie