Teaching English and supporting an information centre in Cambodia
EU-FUNDED VOLUNTEERING OPPORTUNITY for Irish residents aged 18-30
Khmer Youth and Social Development (KYSD) is a Cambodian non-for-profit organisation working for social development. They are now looking for an Irish volunteer starting on 1st June 2018 for 3 months (until 31st August 2018).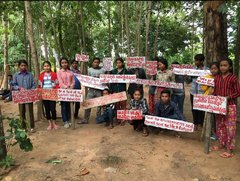 About the organization
KYSD is a Cambodian non-profit Youth NGO based in Phnom Penh established in 2000. They work with young people and communities in the field of Youth Development and Empowerment.
KYSD aims to empower communities, focusing on young people, to achieve their fundamental human rights and to protect their natural resources.
The organisation runs a youth club and organises several workshops and activities for young people (youth camp, youth competition and public awareness, etc.). They also run several programmes: Natural Resource Management and Climate Change, Good Governance and Human Rights, Livelihoods Rights and Employment and an Exchange Programme.  
Volunteer's role
The volunteer will be teaching English to students of different ages, working full-time in a school and community centre. The volunteer will also be involved with the information centre in the village. S/he will assist in promoting ecotourism and giving information, and in preparing local development projects.
The conditions are basic – the school and community have limited electricity, the volunteer will not receive any technological support and there is limited internet connection. S/he will be the only volunteer in the village. The volunteer should be very flexible and able to work with no tools. The most powerful tool will be her/his imagination and the ability to adapt to the circumstances.
Requirements
The ideal candidate is mature, proactive, independent, resourceful, resilient, and someone who can adapt to change easily.
Volunteers applying for this project must be self-reliant and able to withstand basic living conditions (please note that the project takes place in a remote area, with no running water, and limited or no technology/electricity.)
Previous volunteering experience in the Global South is desirable.
English Language Teacher training is not required for this project. However, it is an advantage.
Volunteers should have a passport valid for at least a year at the moment of application.
Please note: Travel expenses to and from the hosting country will be reimbursed to the volunteers upon their arrival in the country up to €1300. 
* Cultural sensitivity
The KYSD project is based in a remote village in Cambodia. Citizens live in very basic conditions (no running water and limited electricity) and the volunteer won't have many opportunities for entertainment outside of work.
Cambodia is a Buddhist country and volunteers should adhere to a dress code. Arms, legs and chest should be fully covered (also practical for heat and mosquitos). Loose clothes and light fibres are advised. Tattoos and piercings must be covered (except for ear piercings) and the volunteer shouldn't have brightly coloured hair.
Accommodation
The volunteer will be living with a host family. Please be aware that you won't have a private bedroom and therefore you'll have very little or no privacy. Your bedroom may be separated only by a curtain.
The bathroom will be shared with the other members of the family. The toilet facilities are very basic: there's no paper, water is used instead. For the shower a bowl and cup are used and it is often with cold water. 
Application
If you are interested in this project, please send your CV and motivation letter to ivp@vsi.ie. Please indicate the name of the project you are applying for on the subject of the e-mail.
In the motivation letter (no longer than 1 page) you should cover the following:
- What is your motivation for this particular project? What do you hope to gain from this project? What would be the biggest challenge for you?
- Volunteers do not need any specific skills or qualifications to take part in the EVS programme but please tell us: What skills or personal qualities would you bring to your EVS role?
- Have you travelled abroad before? Please explain briefly your experiences abroad.
Please note that short-listing of candidates will take place. Interviews will be held either in VSI's Dublin office or via skype.
The successful candidate will be subject to Garda Vetting and reference checks.