VSI Information Session and Programme Launch April 12th
12 April 2018
MORE THAN 500 OPPORTUNITIES TO VOLUNTEER ABROAD THIS SUMMER
What are you doing this summer? There are hundreds of opportunities awaiting you in over 70 countries worldwide. Voluntary Service International wants to tell you more!
VSI has just launched the 2018 programme of International Volunteer Projects across the globe, including:
Along with many more unique projects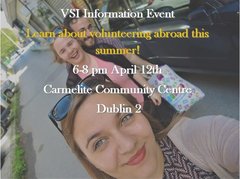 Our Volunteers have a lot to say about volunteering with VSI:
"The experiences are really motivating and make you realise that there is so much more that unites us than divides us as nations and individuals. I should have done this years ago. Roll on next summer!" - Denis, volunteer in Serbia (summer 2017)
"I'm a different person, I'm more open-minded, more outgoing and more determined. It's made me more able to take other opportunities. I wouldn't change it for the world." -  Nicole, long-term volunteer in Greece (2017)
You can hear more from our volunteers about the great opportunities available with VSI at our Volunteer Info Session on Thursday 12th April. The event is 6pm-8pm in Carmelite Community Centre, 56 Aungier St., Dublin 2. Volunteers and staff will be available to provide information and discuss their experiences with Voluntary Service International.
Everyone is welcome to volunteer with VSI, special skills or experience is not required. Our volunteers are very diverse, aged 18-75 with many different backgrounds.
There are more than 500 international projects available with VSI. These projects last from 2 weeks to 12 months. To learn more join us at our free Info Event or contact us at info@vsi.ie , and connect on Facebook.

Location Map