Training Course for VSI Project Coordinators
21 May 2016
Training Course for VSI Project Coordinators Sat & Sun 21/22 May 2016 Dublin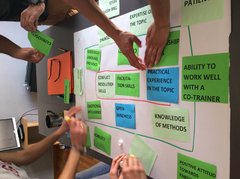 Would you like to develop your volunteer leadership and coordinating skills?          
Would you like to help out on VSI's projects in Ireland this summer?
We are currently recruiting Coordinators / Leaders for our International Volunteer Projects in Ireland in 2016 and have organised a Training Workshop for interested volunteers on the Sat 21th (10am-5pm)/Sun 22th May (11.30am-3pm) in Dublin City Centre.  The workshop will cover all aspects of what is required for a Project Coordinator/Leader. The Training Workshop will be an exciting and participatory course designed to equip you to coordinate an International Volunteer Project with VSI this summer.  At the training you will also find out about VSI and the work that we do and other ways you can volunteer and help out. 
Interested? The training is free and there is no commitment required to lead a project this summer. Lunch will be provided each day and we will have a social activity on the Saturday evening if you wish to join us. 
How to apply for the Training Workshop: Send an email to Masha ivp@vsi.ie outlining your interest and your volunteering experience.
More details here on Project Coordinators
Location Map