Service Civil International
"SCI, believing that all people are capable of living together with mutual respect and without recourse to violence to solve conflicts between nations, communities or people, works for the promotion of peace "
(SCI Constitution)

SCI is a Peace and Solidarity organisation which was founded in 1920 as a response to the tragedy, destruction and violence of World War 1. A group of peace activists came together to work on the reconstruction of a village near Verdun in France, scene of some of the heaviest fighting and loss of life during the First World War.
It's now exactly 100 years ago, when the 'famous' peace conference in Bilthoven (Netherlands) ended. From July 21 till 28 1920 the idea was born to organise a post war reconstruction and reconciliation project in the region of Verdun in France.
At this occasion SCI Archives publish original archives documents about the peace service which was organised after the conference and finally resulted in the creation of SCI. The archives documentation is a compilation of more than 30 documents and around 20 photos gives insight in the course of the first workcamp of SCI. Together with background information it's available as PDF file on the website. Read more here

They showed that people from countries previously involved in conflict could live and work peacefully together towards a common goal despite differences of nationality, religion or class. In our work and in our dealings with hosts, volunteers, partner projects etc. we strive to live by the peace and solidarity ethos and try to resolve any conflicts which may arise in a positive and non-threatening manner.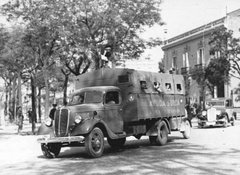 SCI image from the Spanish Civil WarSCI is an international non-governmental organisation committed to the promotion of peace and understanding through voluntary activities. These activities consist primarily of 2 - 3 week long international volunteer projects involving volunteers from all over the world. These projects range from working with marginalised people to ecological, arts and cultural projects, amongst others.
Internationally, SCI has consultative status with UNESCO and the Council of Europe, is a member of the Co-ordinating Committee for International Voluntary Service and the Youth Forum of the European Community. Today SCI has 43 branches and groups in Asia, Australia, Europe and the United States and approximately 10,000 active members and volunteers. SCI also works with partner organisations to exchange volunteers in countries in Africa, Asia and Latin America.