Membership
Voluntary Service International is a membership organisation and we rely on the enthusiasm, dynamism and experience of members to ensure that we remain a vibrant and relevant organisation. Many members are active in supporting the various programmes, projects and events which VSI organises each year.
Join us and get involved!
Voluntary Service International is open to all who support our aims.
waged individuals: €40
unwaged individuals: €20
asylum seekers/refugees: €2
To become a member ...
You can complete the online membership form here
and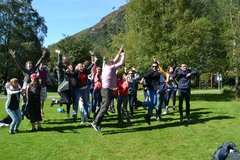 'Get outdoors and have fun' a training seminar for young people from the Caucasus region held in Wicklow, September 2012.
Benefits of membership
Access to a wide range of local, national and international volunteering opportunities
Regular membership updates and volunteering news through bulletins and facebook
Opportunities to get involved with ongoing projects and events in Ireland
Regular international bulletins from SCI
Invites to training and seminar opportunities in Ireland and abroad
Invitation to our AGM and the opportunity to contribute your ideas to VSI
VSI hold an Annual General Meeting (AGM) in November to which all members are invited. The AGM elects a National Committee (Board) which manages the affairs of VSI until the following years AGM.